Last week, a friend emailed me to report that she made these meatballs while on vacation, serving them as an appetizer to rave reviews. And then today, while roaming the grocery store aisles, another friend approached with a few questions about making homemade spaghetti sauce. We got talking about meatballs, and when hearing about a baked alternative, she decided to make this easy version that my family has been enjoying for years.
Perhaps you are like me in this way: I have recipes everywhere…a shelfful of cookbooks, a box with recipe cards, and various pages torn from magazines, newspapers…and so many slips of scrap paper with my own hand-written notes that I scratch out as I create in the kitchen. Amidst all the recipes, I return often to the gems given to me by my friend, Jen. Like me, Jen likes to experiment with new recipes and acquired many of her favorites from her grandmother.
This meatball recipe reduces mess–and fat–by baking the meatballs instead of pan-frying. Parmesan and panko add great flavor and texture. Make them ahead and simmer all day with Basic Marinara sauce (your favorite store bought works, too) in a crock pot set on low. Or heat on the stove as you are boiling water for pasta.
Click here for my favorite gluten-free option to panko. And for a sauce option using vine-ripened plum tomatoes, I love this recipe for Balsamic Pesto Marinara Sauce.
Jen's Incredible Baked Meatballs
Tip #1: Double the batch and freeze half to serve later as mini meatloaves. Or reheat with sauce, top with cheese and make into a mean meatball sandwich. Tip #2: If you have a leftover piece of rind from the Parmesan, let it simmer in the crock pot with the marinara sauce or save for another soup recipe. This will add a great flavor boost to most any sauce or soup.

Yield: approximately 24 meatballs
Ingredients
1 pound hamburger, grass-fed if desired
2 eggs, beaten with 1/2 cup milk
1/2 cup grated Parmesan
1 cup panko or breadcrumbs (see notes)
1 small onion, minced or grated (1/2 a large onion)
2-3 cloves garlic, minced
1/2 teaspoon dried oregano
1 teaspoon salt
freshly ground pepper to taste
1/4 cup minced fresh flat-leaf parsley or basil
Instructions
Mix all ingredients with hands.

Form into golfball-size meatballs.

Bake at 350 degrees F for 30 minutes.
Notes
For a gluten-free option, crushed Rice Chex work beautifully.
When making a big batch, I recommend mixing all of the ingredients except the beef first. This will ensure everything is well incorporated but help prevent over-working the meat.
The Fountain Avenue Kitchen https://fountainavenuekitchen.com/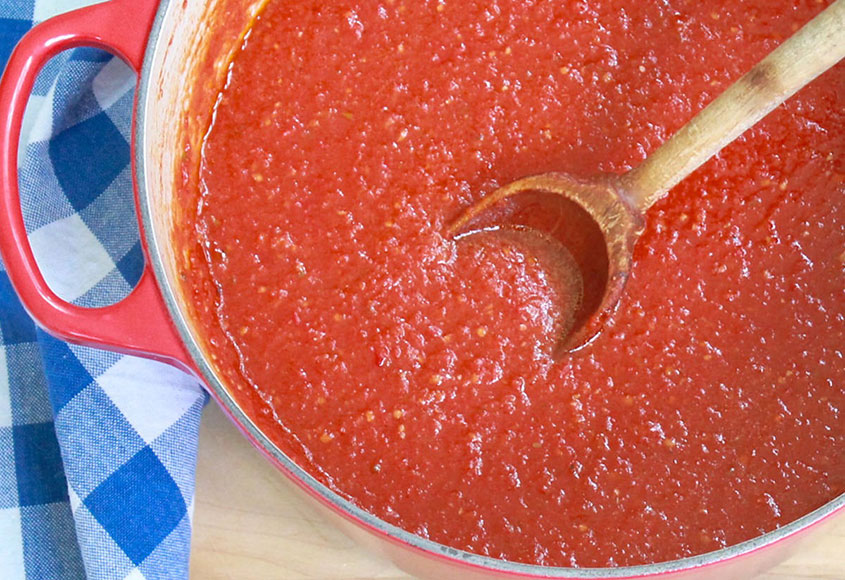 Shortcut Blender Tomato Sauce (above) pairs beautifully with these meatballs and is perfect when vine-ripened tomatoes are in season. When canned tomatoes are the best option, Basic Marinara (below) is a great option.