A few nights ago, I pan seared some wild caught Halibut, wrapped simply in prosciutto. Though I buy fish regularly, I tend not to buy much Halibut. It is a meaty fish, and I tend toward the flaky. (Somehow, that sounds sort of funny, but you know what I mean!)
These wild caught pieces of Alaskan Halibut were meaty and satisfying, and what I really loved was the flavor. Halibut has a hint of sweetness to it — in the way that lobster is sweet. Its flavor pairs perfectly with the saltiness of the prosciutto and, like most fish, takes mere minutes to prepare.
I often take the protein on our dinner plate and transform it into a salad for an all-in-one meal. The first time we enjoyed this Halibut, which was flash-frozen to maintain peak freshness and so easy to pull from the freezer for an easy dinner, my thoughts turned toward the flavors that would create a hearty, healthy, quick to prepare, one-plate meal.
If you are a frequent visitor to my website, you have read the words quick, speedy, and easy often. I love to cook. It is fun and relaxing and I enjoy the creative outlet immensely. But putting dinner on the table amidst work, kids' activities, meetings, laundry, etc., can be a grind. There may be different reaons for different people but, the bottom line is, dinnertime tends to be a busy time! So, I try to focus on meals that are not only healthy and delicious, but meals that are uncomplicated and can be pulled together in a short amount of time and, ideally, with a moderate amount of pots and pans!
The simple, three-ingredient tomato sauce is the perfect dressing for this salad yet works beautifully as a sauce for simple sautéed or baked chicken. Feel free to mix up the fish as well, using cod or flounder or whatever white fish you truly enjoy.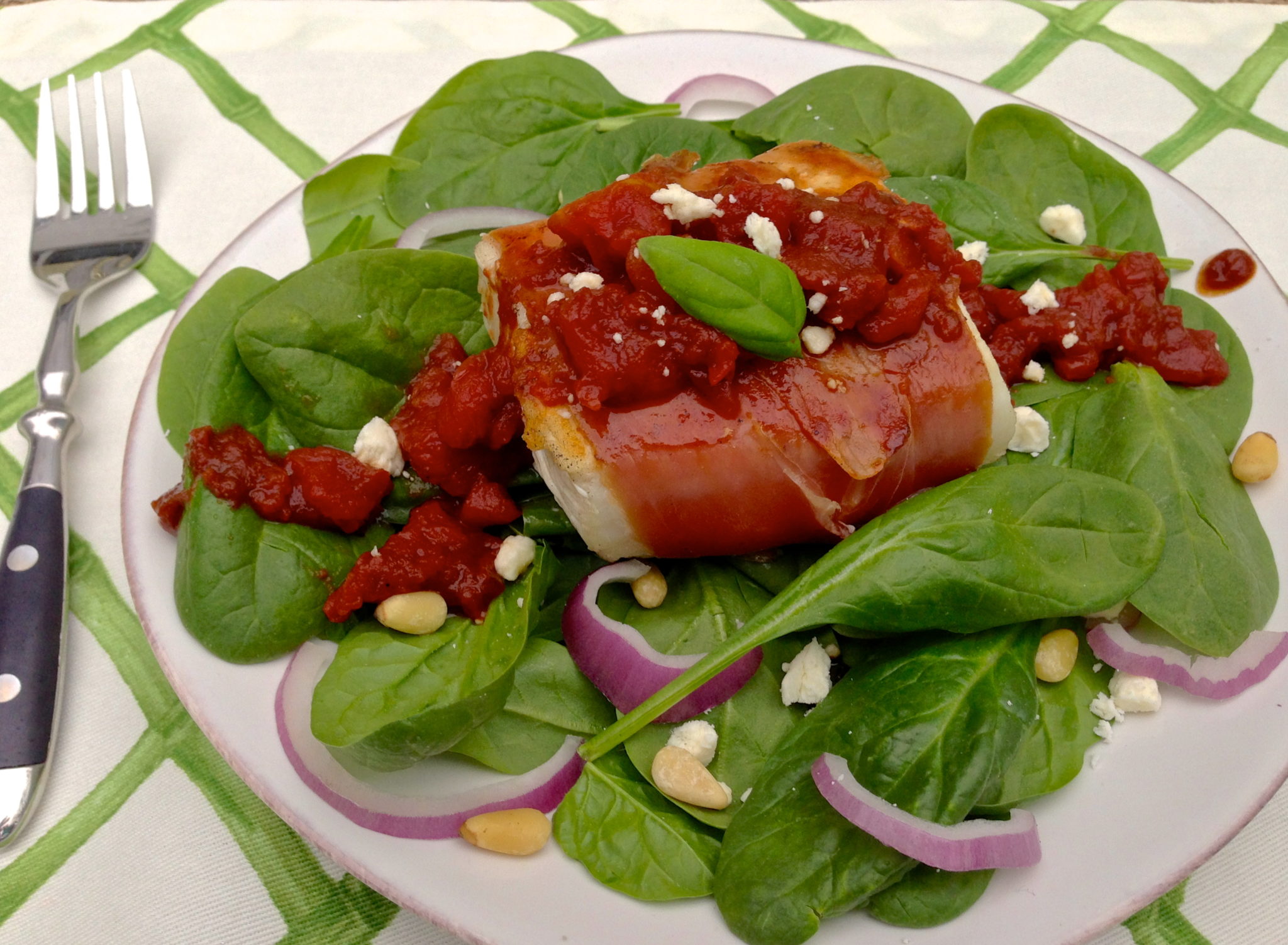 Prosciutto Wrapped Halibut Salad with Balsamic Tomato Sauce
2015-11-20 09:28:00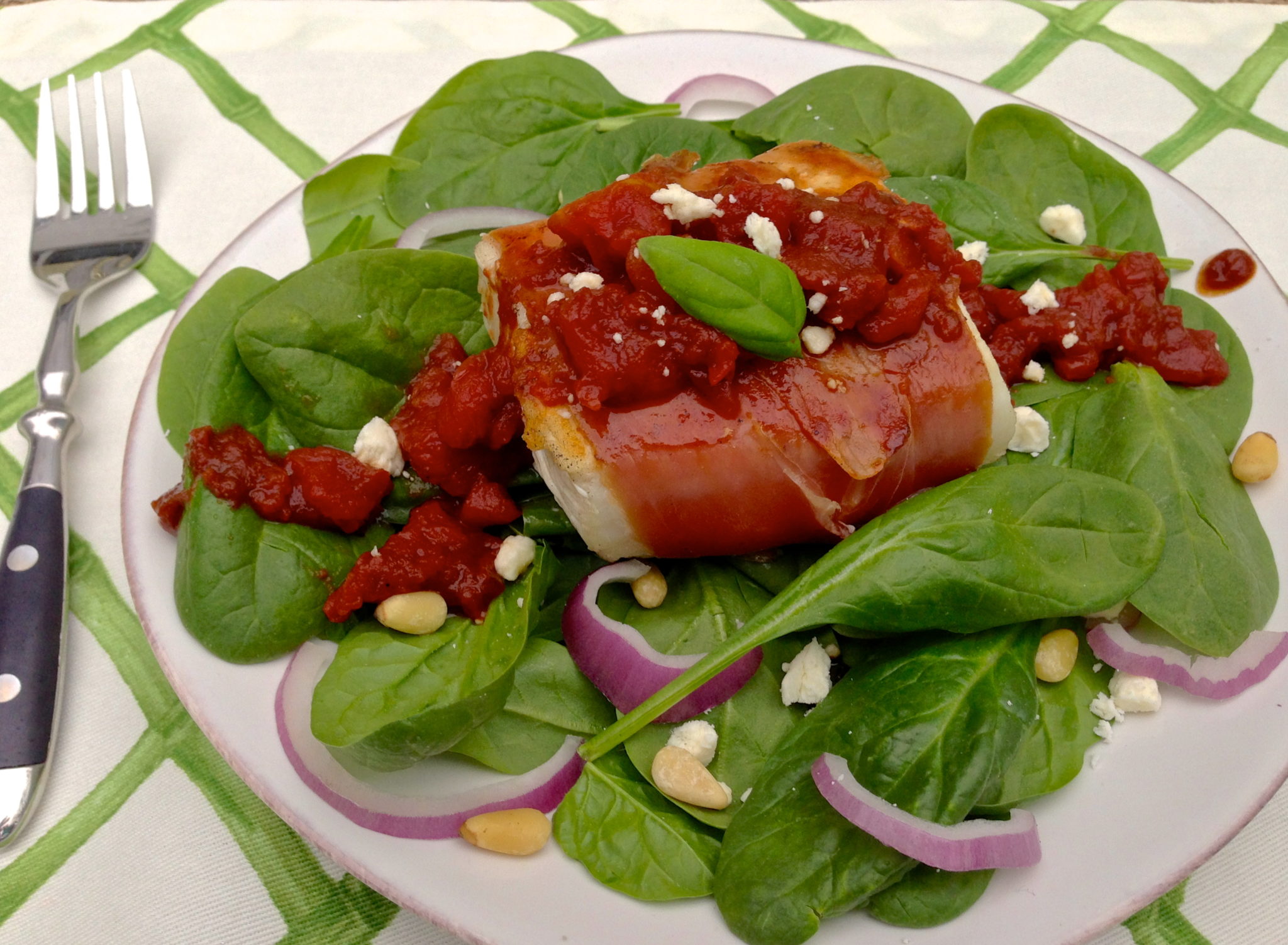 The balsamic tomato sauce is equally delicious spooned over pan-seared or baked chicken. In lieu of a salad, you may also pile the fish (or chicken) and sauce on top of a bed of couscous.
Ingredients
Prosciutto wrapped Halibut (see following recipe)
1 14-ounce can no salt added diced tomatoes, with juice
3/4 cup chicken low-sodium broth or homemade stock
3 1/2 tablespoons balsamic vinegar
Baby spinach
Salad add-ins: slivered red onion, feta cheese, black olives, pine nuts, sliced almonds, or chopped walnuts
Instructions
Heat a lightly-oiled skillet over medium-high heat. Add the tomatoes, chicken stock and vinegar. Bring to a simmer and cook for 5-7 minutes or until the tomatoes are starting to break down and the sauce is slightly thickened. (I like to use my cast iron skillet, cook the halibut first and then remove to a plate before using the same skillet to make the sauce. The browned bits sticking to the skillet will be incorporated into the sauce, lending extra flavor.)
Make a bed of spinach on your plate, sprinkle with desired salad add-ins, then top with a piece of prosciutto-wrapped halibut and a generous spoonful of sauce. Sprinkle with a bit more feta, if desired.
The Fountain Avenue Kitchen https://fountainavenuekitchen.com/
As an option to the salad recipe above, you may serve with a drizzle of syrupy balsamic vinegar. To make your own version of a costly aged variety, simply simmer an inexpensive balsamic vinegar on the stovetop until reduced by about half.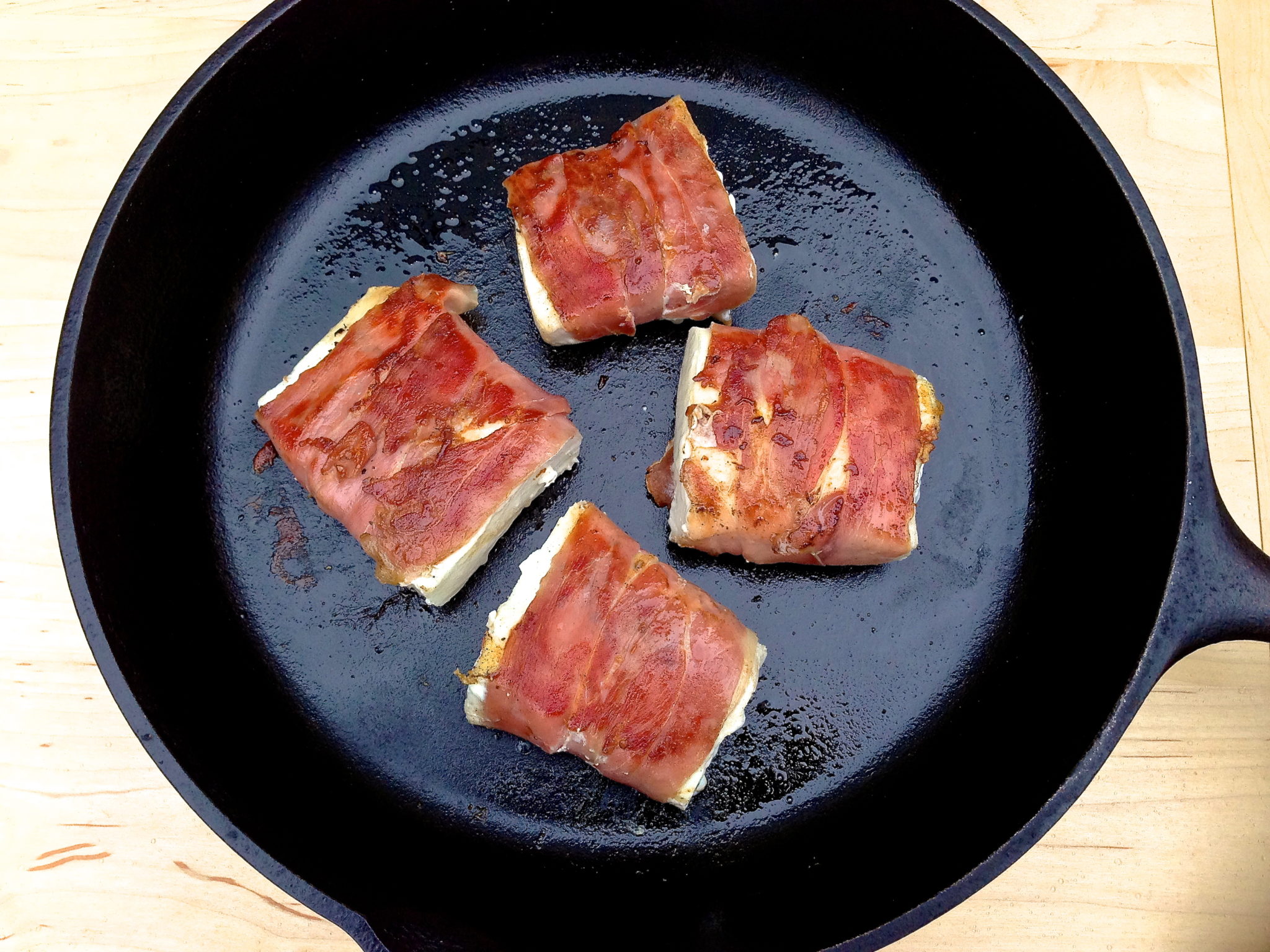 Prosciutto-Wrapped Pan Seared Halibut
2015-12-23 11:25:36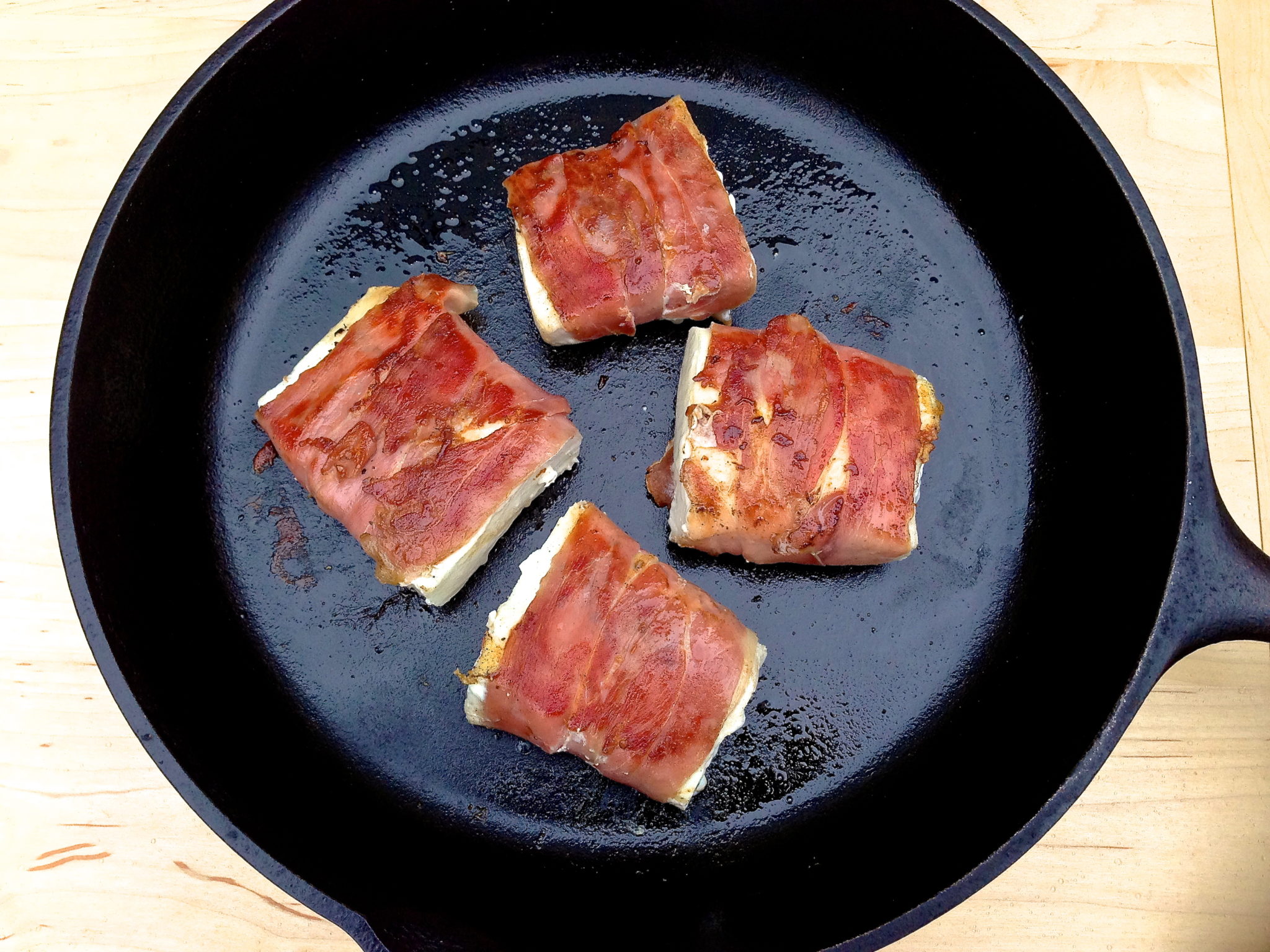 If desired, you may serve with a drizzle of syrupy balsamic vinegar. To make your own version of a costly aged variety, simply simmer an inexpensive balsamic vinegar on the stovetop until reduced by about half and add a touch of honey. (Link to instructions at the bottom of recipe post)
Ingredients
Halibut fillets (4-6 ounces, depending on appetite)
Prosciutto slices (1 - 1 1/2 per fillet, depending on size)
Freshly ground black pepper
Olive oil to coat skillet
Instructions
Sprinkle the fish with pepper to taste. Wrap a slice of prosciutto around the middle of each fish fillet. If the fillets are large or the prosciutto slices are small, you may need to overlap part of a second piece to fully cover.
Coat a large skillet (cast iron works great if you have one) lightly in olive oil and heat over medium-high heat.
When hot, place the prosciutto-wrapped fish in the skillet and cook for 2–3 minutes on each side, until the prosciutto is golden and crispy and the fish is just barely cooked through. The fish will continue to cook a bit after it has been removed from the heat.
Serve with your favorite green vegetable, a baked potato and/or a side salad...or whatever sounds good to you!
Notes
In addition to Halibut--which is a firm, meaty, yet slightly-sweet fish--this meal may be made with Tilapia, Cod, or another white fish of your choice. Depending on the thickness of the fillets, you may simply need to adjust the cooking time up or down by a minute or so.
The Fountain Avenue Kitchen https://fountainavenuekitchen.com/