Because there are a few major league cornbread fans in my family, I have experimented with quite a few recipes over the years. This combination of ingredients is one of my favorites for several reasons.
First, it's easy! This recipe can be quickly prepped and baked and will compliment a variety of soups, salads, and proteins. Secondly, there is no flour in the recipe, making it ideal for those who cannot eat gluten and appealing to those who are simply looking to avoid it. Lastly, the method of baking creates crispy edges and moist insides…and with just one tablespoon of fat in the whole recipe, there is very little guilt!
I am sure this is highly un-Southern, but I love to top this cornbread with a spoonful of strawberry jam. And even though many think that cornbread tastes best straight from the oven, I wrap and refrigerate any leftovers and think they taste quite good the next day.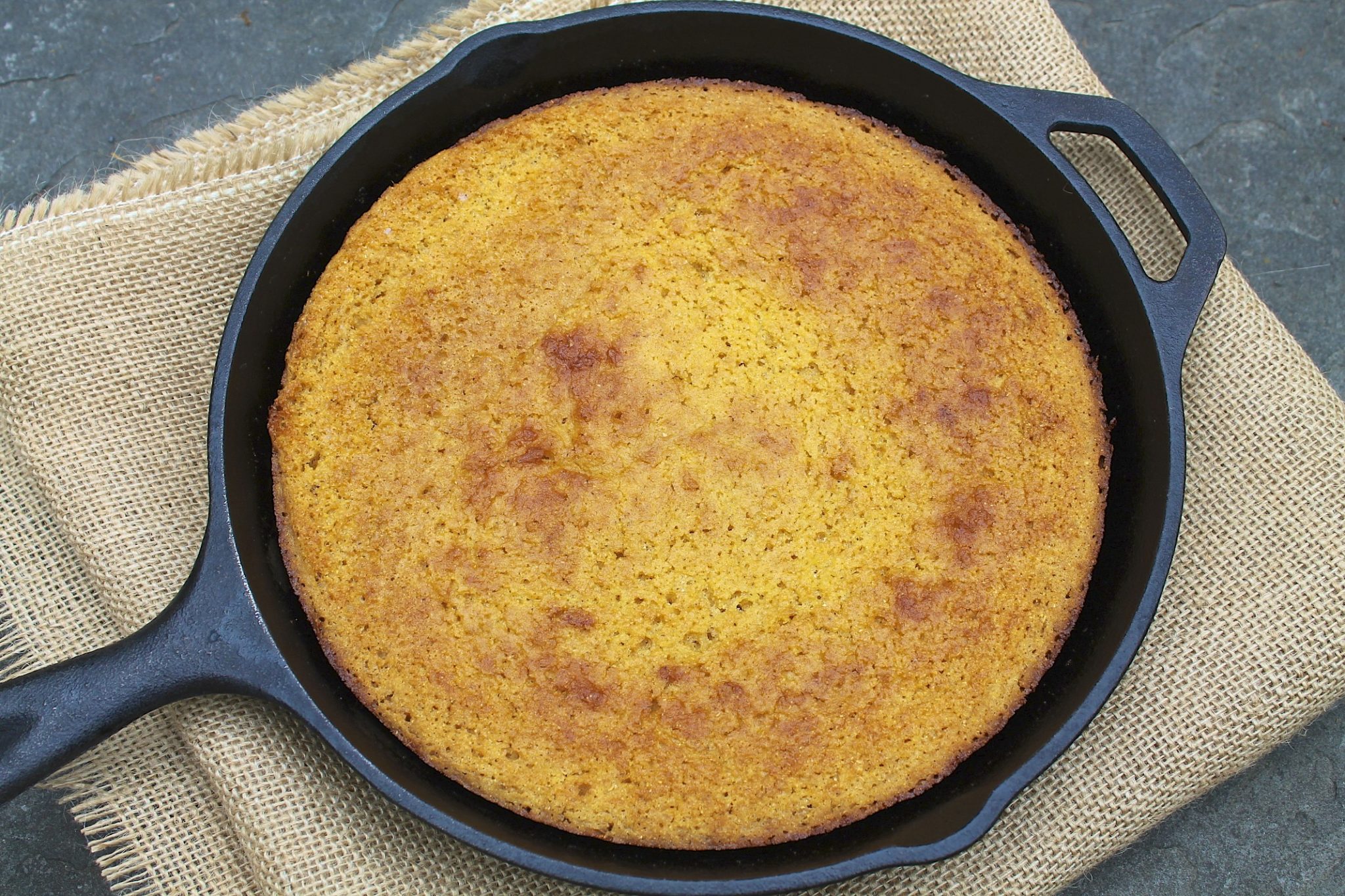 Southern (With a Twist) Cornbread
When you pour the batter into the hot cast iron skillet, the magic of this recipe begins. If you do not have a cast iron pan, you may substitute another oven-safe skillet. Just make sure to not use a round pan with a diameter of greater than 10 inches or the bread will be too thin. A 9-inch skillet will work, too, and may simply require an extra minute or two in the oven. In a pinch, you may substitute a 9-inch square metal baking pan. Yields 8-10 servings.
Ingredients
1 3/4 cups stone-ground cornmeal
1 teaspoon baking powder
1 teaspoon baking soda
1 teaspoon kosher salt
2 large eggs
2 cups buttermilk, well shaken (see notes for dairy-free option)
1/4 cup honey (may substitute sugar; see notes)
1 tablespoon coconut oil (bacon fat would be traditional; may substitute oil of choice)
Instructions
Preheat the oven to 375 degrees F.

In a large bowl, mix the cornmeal, baking powder, baking soda, and salt.

In medium bowl, whisk the eggs until foamy. Whisk in the buttermilk and honey.

Make a well in the center of the dry ingredients. Add the wet ingredients to the dry ingredients, and mix until just blended.

Meanwhile, place the coconut oil in a 10-inch cast iron skillet (see comments above), and heat the skillet in the oven for 5 minutes or until very hot.

Remove the skillet from the oven, and immediately pour in the batter. Return the skillet to the oven, and bake for 17-20 minutes or until the top is beginning to turn golden and the center is just cooked through. Check a few minutes early as all ovens vary. Taking care not to over-bake will ensure moist cornbread. (If the top is sufficiently browned but the center is still not cooked through, lightly drape with a piece of foil.)

Serve hot or at room temperature, with butter, honey or — my personal favorite — strawberry jam. Wrap tightly, and refrigerate any leftovers. If the leftovers become dry, wrap lightly in a damp paper towel and reheat gently in the microwave. This will "refresh" the cornbread, as my grandmother used to say!
Notes
Low-fat buttermilk works in this recipe, but for best results I prefer the full-fat version. (If you are local and a patron of Lancaster Central Market, Maplehofe Dairy's buttermilk is extra delicious.)
Because I have heard from many people who cannot consume cow's milk, I recently tried this recipe substituting a 14.5-ounce can of light coconut milk combined with 2 tablespoons freshly squeezed lime juice for the buttermilk, allowing the mixture to sit for five minutes. Though this is quite untraditional and I had my doubts, the resulting cornbread rivaled the buttermilk version and was enjoyed by all. I wouldn't hesitate to prepare it this way again.
Purists may prefer no honey or sugar in their cornbread. The amount used in this recipe adds just a hint of sweetness; feel free to increase or reduce if desired. If you use sugar, mix in with the dry ingredients.
The Fountain Avenue Kitchen https://fountainavenuekitchen.com/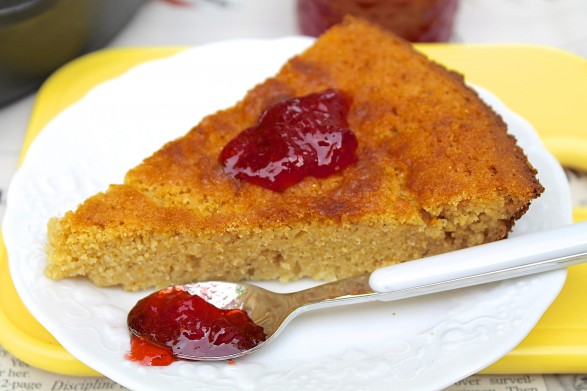 Strawberry jam may not be the traditional way to enjoy cornbread, but it sure is good! For my Classic Strawberry Jam recipe, click HERE.