"Two all beef patties, special sauce, lettuce, cheese, pickles, onions on a sesame seed bun…." Can you almost hear the music? This iconic jingle is etched into my childhood brain, even though I never quite made the leap from McDonald's Quarter Pounder to Big Mac.
These days, I prefer the backyard grill to the drive-thru, ideally on a warm evening in the company of family and friends. In my humble opinion, there are two things that really MAKE a burger. The first is not messing too much with the meat. The less it's worked, the more tender the burger. For me, that means grilling pure ground beef, no add-ins. For best flavor and texture, I like to start with beef that's 80 percent lean and 20 percent fat–grass-fed if possible. Let the shaped patties sit at room temperature for a half an hour or so before grilling and, if anything, give them a quick sprinkle of seasoning before cooking.
Once the burgers are cooked somewhere between medium-rare and medium, all that's needed is a few choice condiments. Of course, personal preference ultimately dictates here. Thankfully, however, there's no need to relegate the "special sauce" to Big Macs alone. I've always been a fan of the classic condiments—generous servings of all of them. Special sauce makes for one-stop shop. It's a creamy mix of sweet and tangy and, in my mind, makes the burger.
Just for kicks, before posting this recipe I looked up the ingredients in the original special sauce recipe. I will say that, although the taste is similar, the ingredients in my recipe are nothing like the original. I stopped counting at 25 ingredients because certain items (like salt and high fructose corn syrup) were listed more than once.
After the sauce, my personal favorite toppings include crisp lettuce, a juicy slice of tomato, a few slivers of red onion—and almost as critical as the special sauce—pickles.
How do you create the perfect burger?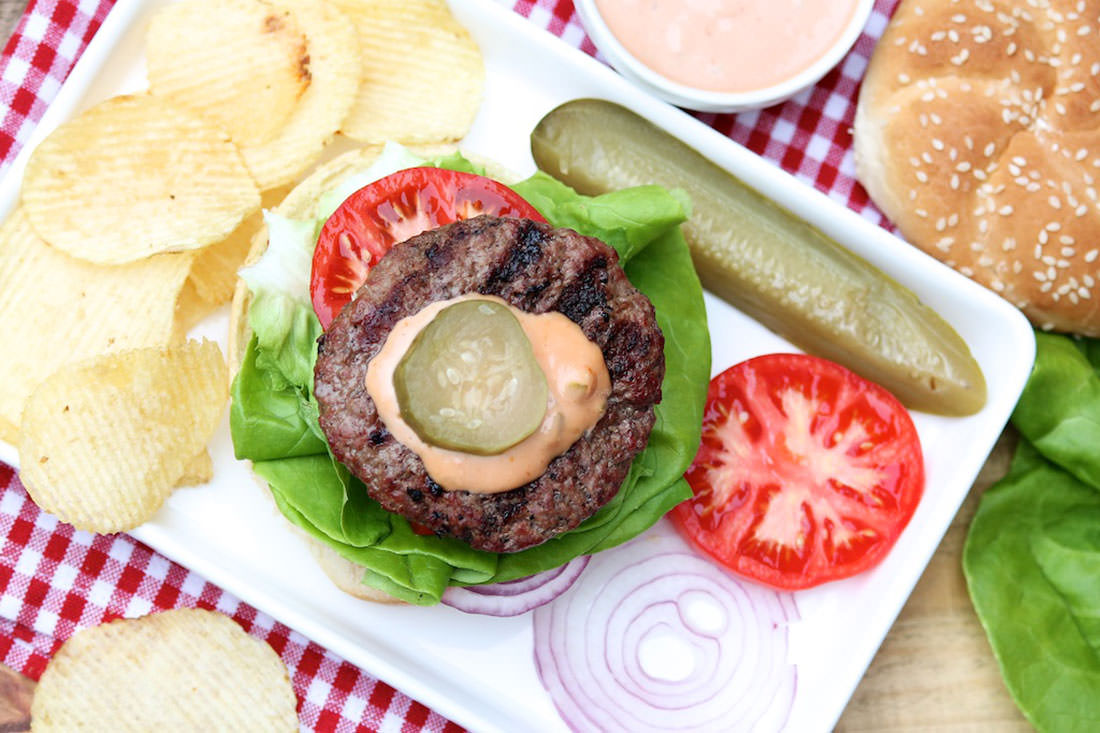 Special Sauce
2016-05-24 18:14:13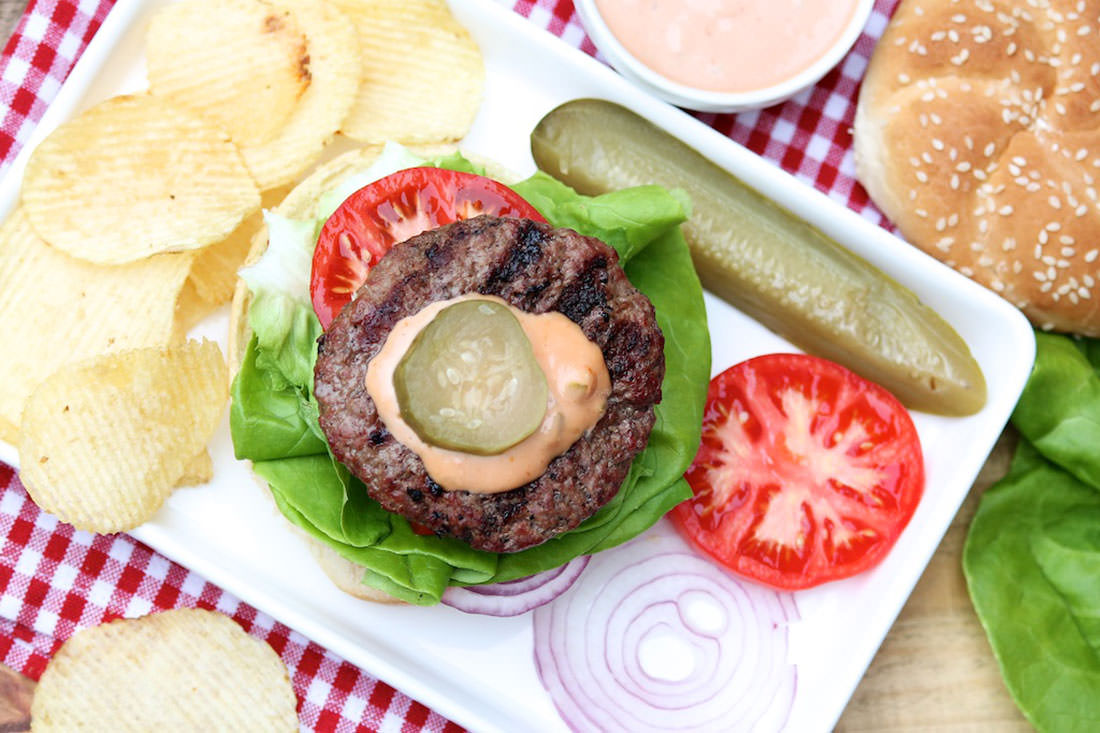 Yield: 1/3+ cup (Recipe may easily be doubled or tripled.)
Ingredients
1/4 cup mayonnaise
1 tablespoon ketchup
1 tablespoon sweet pickle relish
1/2 teaspoon white or apple cider vinegar
1/2 teaspoon sugar
A pinch (1/16 teaspoon) kosher salt
Optional: 1/2 tablespoon minced yellow onion
Instructions
Mix all of the ingredients together in a small bowl. Cover and refrigerate until ready to use.
Stored in the fridge, the sauce will keep for at least one week.
The Fountain Avenue Kitchen https://fountainavenuekitchen.com/
Tips to Make a Better Burger:
For juicy, flavorful burgers, choose beef with a ratio of 80-20 lean meat to fat. Extra-lean meat will more likely result in tougher, drier burgers.
Though it's preferable to cook meat that's been sitting at room temperature for 30 minutes or so, cold beef is easier to shape into patties. (Warm fat becomes pliable and sticky—and much of it will adhere to your hands.) If you shape the burgers in advance, cover and return them to the fridge without salting. (More to come on this.) Remove to the counter before preheating the grill.
For the tenderest burgers, work the meat as little as possible. And don't forget to make an indentation in the middle of the burger with your thumb to ensure even cooking and burgers with a better (flatter) shape once cooked.
Uniform size and shape will ensure that all the burgers cook evenly and at the same rate. A kitchen scale makes this super easy and very accurate…although a good eyeball will do!
For me, working the meat as little as possible means burgers made with just beef—no add-ins. Ground meat gets worked a good bit in the process of incorporating extra ingredients. However, I do recommend liberally seasoning both sides of the patties with Montreal steak seasoning or coarse salt and freshly cracked pepper just before grilling. (Note: don't add any salt until just before grilling as salt will break down the proteins of the meat and draw out the moisture.)
Use a quick-read thermometer to ensure that the patties are perfectly cooked to your preferred level of doneness:
*130°F for medium-rare
*140°F for medium
*150°F for medium-well
Common knowledge dictates that hamburgers should only be flipped once, but I recently read that frequent burger flipping will actually speed up the cooking time by encouraging more even cooking. So it's the cook's prerogative on this one…just don't press down on the burger with a spatula to expedite cooking. We want to keep those flavorful juices inside the burger.
Once your burgers are cooked to tender, juicy perfection, the bun and toppings provide the finishing touches. I prefer smaller, less bready buns that allow the flavor of the beef and condiments to shine through without gobbling up the burger. Choose what you like in terms of white vs. whole wheat, with or without sesame seeds, etc. Toasting is a plus in my book, but not essential. Likewise, personal preference should be the guide when it comes to toppings and condiments. To make everyone happy, offer a toppings bar with all the classic options…and maybe even some homemade Special Sauce to slather on top.