Baked Cheddar Broccoli Rice Cups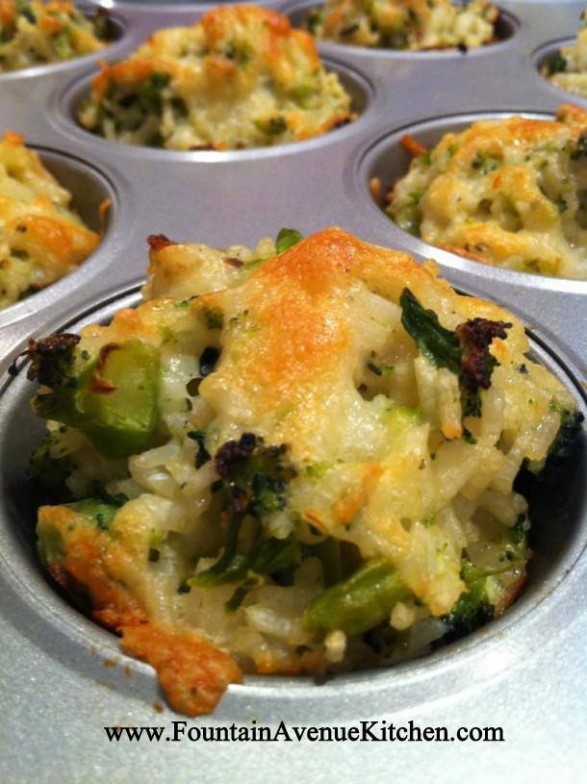 Simple to whip up with ingredients you have on hand, this side is a sure kid-pleaser that adults will enjoy as well.  I employ one of my favorite kitchen tricks with this recipe:  Any time I use frozen broccoli or spinach that needs to be thawed and drained well, I put it inside a tea towel and literally wring it out.  You will be surprised by how much water is released, and getting rid of it will prevent your finished product from becoming soggy.
Vary the cheese if you like or bake in a casserole dish or jumbo muffins tins.  For my Better-For-You Ranch Dressing, click HERE.
Ingredients:
1 cup quick-cooking rice, like Minute Rice (can substitute about 2 cups cooked white or brown rice and omit the 1 cup stock below)
1 cup chicken stock
1 10-oz. box frozen, chopped broccoli, thawed and excess water squeezed out
3/4 cup shredded cheddar cheese, divided
1/4 cup Homemade Ranch Dressing (see recipe), or store bought
2 eggs, lightly beaten
1/2 teaspoon salt and freshly ground pepper to taste
Prepare rice as directed on package, substituting stock for water.  Place cooked rice in a large bowl and let cool slightly.  Add the remaining ingredients, using only 1/2 cup of the cheddar cheese, and stir until combined. Transfer mixture to eight well-greased muffin cups–I like to use an ice cream scoop–and top with remaining 1/4 cup cheese.  Bake 25 minutes at 350 degrees or until tops are lightly browned and edges are starting to get crispy.