My sister-in-law, Melissa, is a great cook and has endless ideas for quick, healthy dinners. Like me, she hardly ever makes something the same way twice and rarely has measurements for her recipes. This is one of those recipes that can be taken as a framework. Use black beans or ground beef instead of the refried beans (although the refried beans really do taste great!). Add corn, black olives, or cilantro to your list of toppings. Wheat tortillas would be an option, too. Melissa, however, hit upon sprouted corn tortillas. They offer more texture than the wheat variety and have the added benefit of being a healthy, gluten-free, whole grain. I topped it all with Speedy Guacamole and Greek yogurt instead of sour cream. A healthy hit on Meatless Mondays or any night of the week!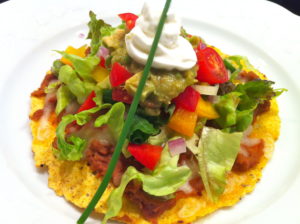 Mexican Pizzas
2015-11-18 15:15:47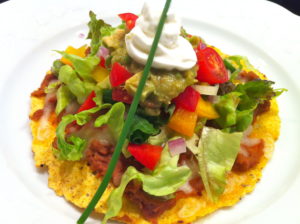 Ingredients
sprouted corn tortillas
refried beans (canned are fine)
shredded cheese (Mexican blend is great, although I love using sharp cheddar)
taco sauce or salsa
shredded or chopped lettuce
chopped bell peppers (I used red and yellow--any color is fine)
chopped red onion or scallions
guacamole
other options
tomatoes, black olives, black beans, jicama, cilantro, chives
Instructions
Preheat oven to 400 degrees.  Bake desired number of tortillas on a baking sheet for about 4 minutes. Then spread tortillas with refried beans and sprinkle with cheese.  Return to the oven for another 4 minutes or until beans are heated through and cheese is melted.  Top with taco sauce or salsa, lettuce, and veggies of choice.  Finish with a dollop of guacamole and Greek yogurt.
The Fountain Avenue Kitchen http://fountainavenuekitchen.com/