Overnight No-Cook Oatmeal Yogurt Cups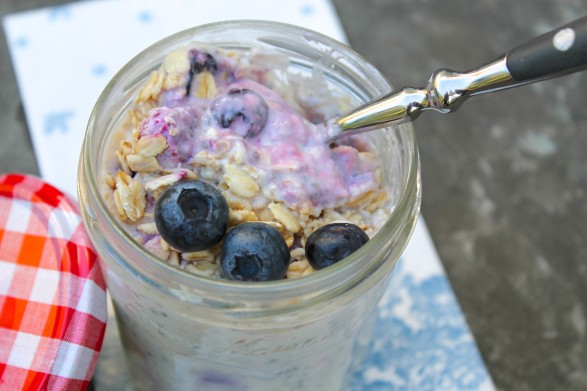 The time has come!  I have written down this recipe quite a few times recently for interested friends who have whipped up their own and enjoyed.  I finally took a picture of this meal-in-a-jar that I crank out on a regular basis but had never taken the time to type!
A few years ago, I tried the concept of overnight, no cook oatmeal with just oats and milk or water.  The idea is that the oats soften as they absorb the liquid and breakfast is ready when you are.  Reheating is an option but not necessary.
Though I love anything that saves precious minutes in the morning, in my mind, this method didn't quite measure up to a good, old-fashioned bowl of stovetop oatmeal!  Liking the concept, however, I eventually returned to it when I saw a version shared by Pepper Lynn which incorporated other flavors to mask what I considered an uncooked taste.  I made it often, quickly mixing up a jarful in the evening and grabbing it for a hearty yet healthy morning meal.  This is truly a breakfast of champions, loaded with fiber, protein, calcium and more.  Over time, I played with the amounts of each and every ingredient to develop what I thought was a satisfying and delicious breakfast with just the right texture and taste.
If you are not familiar with chia seeds, they are a neutral-tasting, nutritional powerhouse–loaded with omega-3 fatty acids and anti-oxidants.  Unlike flax seeds, they do not have to be ground for their benefits to be absorbed by one's body.  When added to liquid, chia seeds will soften and absorb more than 10 times their weight in water, making them an excellent thickener.  (Look for chia seeds in your grocery store's organic aisle or in health food stores.)
During a downright hot stretch in early April, I returned to this breakfast once more as a refreshing alternative to the hot cereals I often enjoy.  As seasonal berries were not available, I turned to frozen berries.  Frozen fruits are a great choice, not only for the convenience, but for the taste.  I particularly like the texture of plump frozen blueberries once thawed.  When peaches are in season and full of their incredible, juicy deliciousness, they become my favorite.  Yet it is always nice to have frozen fruit to fall back on.
Think of this as a cold, fruity porridge.  I like the texture to be thick with the slightest bit of soupiness.  The first time around, I suggest following this recipe.  Then, if you prefer your oatmeal cup a bit thicker or thinner, simply add or subtract a tablespoon of milk or a teaspoon or so of oats until you have the perfect consistency for you.  If you enjoy almonds, almond extract is a nice change of pace from vanilla, and it delivers a bigger flavor punch.  I use 1/4 teaspoon almond versus 1/2 teaspoon vanilla extract.  You may choose to start with 1/ 8 teaspoon and adjust accordingly.  The same goes for sweetness.  I like two teaspoons of  pure maple syrup, but feel free to adjust to your tastebuds.  If you like a little crunch, toss in some toasted nuts or  granola before digging in.
However you mix your personal-size oatmeal cup, I am willing to bet that if you eat one for a few days in a row and find the combination that suits you best, you will find yourself looking forward to these–maybe even craving them.  I am always happy to quickly mix a few jars in the evening so I have them ready and waiting!
Overnight No-Cook Oatmeal Yogurt Cups
A 12-ounce jelly or Mason jar is an ideal size for this make-ahead meal. Put the lid on and store in your refrigerator for up to three days for a speedy yet satisfying breakfast. Frozen fruit is a surprisingly delicious option and allows you to whip up these single-serve cups any time of year.
1/3 cup (1 ounce) old-fashioned oats (the kind that cook in 5 minutes, gluten-free in necessary) plus extra teaspoonful for topping
1/3 cup (2 3/4 ounces) Greek yogurt (I use plain, nonfat; you may use 2% or flavored, if desired)
1/3 cup (2 3/4 ounces) milk (I use nonfat milk but, again, use what you prefer)
1 teaspoon chia seeds
1/2 teaspoon vanilla extract or 1/4 teaspoon almond extract
2 teaspoons maple syrup (or sweetener of choice, to taste)
1/2 cup fruit, frozen or fresh (see note)
Add oats, yogurt, milk, chia seeds, vanilla or almond extract, and maple syrup to the jar. Screw the lid on tightly and shake well.
Stir in the fruit and mix to distribute throughout the jar. Sprinkle an extra teaspoon of oats (I like a slightly rounded teaspoon) over the top and do not stir.
Replace the lid and store in the refrigerator for up to three days. In the morning, enjoy straight from the jar!
Notes
While I vary the fruit, my personal favorite is mostly blueberries with a few chopped strawberries thrown in. Mango, raspberries and peaches are also delicious. I keep bags of frozen, organic fruit on hand and add while still frozen. For the larger pieces of fruit, chop before adding. The fruit can be cut fairly easily while still frozen.
© The Fountain Avenue Kitchen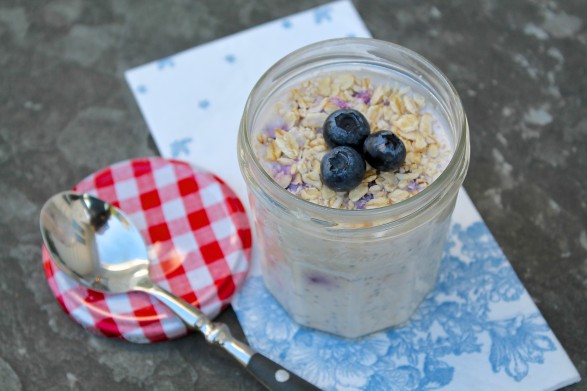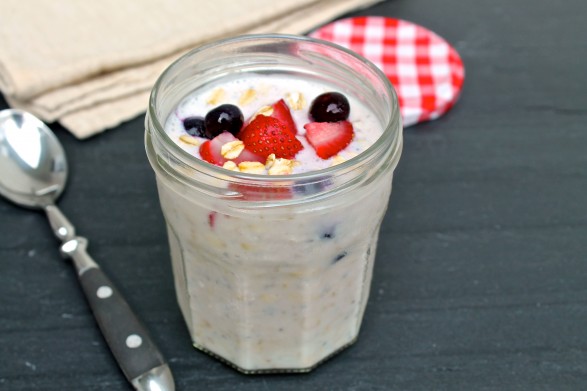 This recipe was shared with Recipes for My Boys' weekly recipe roundup.