Strawberry Rhubarb Cobbler (gluten-free with an almond and oat topping)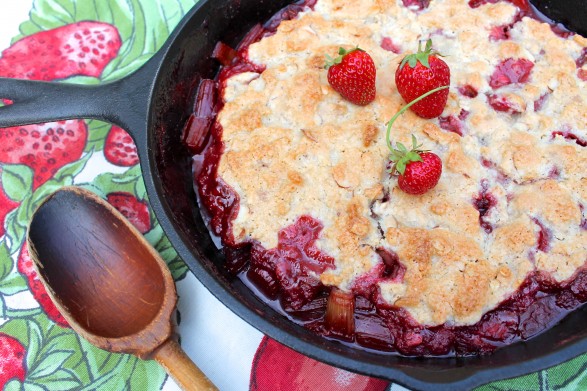 In an effort to make my long-loved Strawberry Rhubarb Crisp into an equally loved gluten-free dessert for company, I realized that I had essentially turned it into a cobbler!  No matter: with its new cookie-like topping, it was actually more loved than the original–healthier, too.  When I took a sample to my rhubarb loving parents, my mom declared that she must start growing rhubarb!
So what is the difference between a crisp and a crumble…and a buckle and a grunt for that matter?
Both a crisp and a crumble consist of sweetened fruit, often lightly thickened to produce syrupy juices, that is baked with a crumbly topping of flour, butter, sugar, spices, and sometimes oats.  Technically, a crumble contains oats and a crisp does not.
A cobbler is a deep-dish, single-crusted fruit pie.  Typically, the crust is on the top, and although cobblers used to be made with pie dough, a sweet biscuit dough is more common today.  The dough is often dropped or arranged in a rustic or patterned way, giving the appearance of a cobbled road.
A buckle is a dessert in which fruit is folded into cake batter and sprinkled with a streusel topping. The the weight of the topping makes the cake "buckle" in spots before the batter is set resulting in pockets of caramelized sugar and butter.  The result is sometimes compared to coffee cake.  Sometimes, the fruit is added to the top of the batter and the batter rises up around it as it bakes, creating that buckled look.
A grunt descended from puddings cooked in pots over the fire.  Fresh fruit or berries are cooked down and then large dollops of biscuit dough are dropped on top.  The pan is then covered, and the dough cooks through the steam that escapes from the fruit.  The name is derived from the sound the bubbles make as they push through the thick syrup and break out between the biscuits.  This dessert is sometimes referred to as a slump for the way it slumps on the plate when served.
Strawberry Rhubarb Cobbler (gluten-free with an almond and oat topping)
If available, thinner rhubarb stalks will be less fibrous. Consider freezing rhubarb at the height of the season to use in this and other recipes throughout the year. Simply wash, completely dry, and chop the rhubarb. Then freeze on a cookie sheet. When frozen, transfer to a zipper-top bag, label, and store in the freezer.
1 pound rhubarb (about 3 very slightly rounded cups), leaves discarded and stems cut into 1/2-inch pieces
1 pint strawberries, halved or quartered depending on size
1/3 cup sugar
1 tablespoon cornstarch (see notes)
1 cup old-fashioned (rolled) oats (gluten-free, if necessary)
1 cup almond flour (preferably blanched; see notes)
1/4 cup sliced almonds
1/2 cup sugar
1/2 teaspoon ground ginger
2 egg whites
2 tablespoons melted butter
Optional: Whipped cream, vanilla ice cream, or frozen yogurt for serving
Preheat the oven to 350 degrees F.
Place the rhubarb and strawberries in a 10-inch, oven-proof, round skillet (I like cast iron; a 9-inch deep dish pie plate or similar size baking dish would also work well), and toss the fruit with the 1/3 cup sugar and 1 tablespoon cornstarch. If you prefer a sweeter dessert or your strawberries are not especially sweet, you may add one extra tablespoon of sugar.
In a medium bowl, mix the oats, almond flour, almonds, sugar, and ginger. Add the egg whites and butter, and stir until blended.
Spread the mixture evenly over the fruit mixture. I leave a small gap between the topping and the side of the skillet. If you use a pan with a 9-inch circumference, the topping will spread out to the edge of the pan. Leave at least a tiny gap.
Bake for 35-40 minutes or until the rhubarb is bubbling and the topping is crisp and lightly golden. Allow the cobbler to rest for 5 minutes or so. Enjoy hot or at room temperature, with a dollop of whipped cream, vanilla ice cream, or frozen yogurt, if desired.
Notes
If a gluten-free recipe is not required, you may alternatively use 3 tablespoons whole wheat or all-purpose flour.
Blanched almond flour tends to be finer and lacks the brownish pieces seen in some almond flours and meals. Both work in this recipe, although the blanched variety will produce a slightly lighter end result. The unblanched variety will look a little more rustic in its appearance.
© The Fountain Avenue Kitchen