Strawberry Salad with Creamy Poppy Seed Yogurt Dressing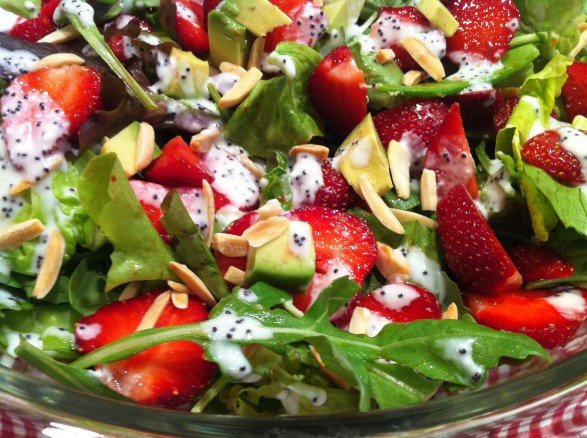 I love strawberries in salads.  Their natural sweetness is the perfect counterbalance to more bitter greens.  Strawberries also pair well with a variety of nuts and other add-ins such as avocado, snap peas, asparagus and goat cheese.
When strawberry season is over, try this dressing in a salad using other berries, peaches, mango, kiwi, or a combination of your favorites.
Strawberry Salad with Creamy Poppy Seed Yogurt Dressing
one head romaine, butter, or leaf lettuce, spinach (or a mixture of several)
1 pint strawberries,sliced
1/2 red onion, sliced
1/4 cup sliced or slivered almonds, toasted
Poppy Seed Dressing:
1/3 cup plain Greek yogurt (I use Chobani 0% fat)
1/3 cup mayonnaise
1/4 cup non-fat milk
1/3 cup sugar
2 tablespoons poppy seeds
2 tablespoons tarragon or white wine vinegar
Place first four ingredients in a large salad bowl.
Mix all of the dressing ingredients well and drizzle over salad.
Store remaining dressing in a jar in the refrigerator. It will keep for about a week.
Notes
Avocado, snap peas, leftover cooked asparagus, and goat cheese are all great additions to this salad. You may also swap the almonds for pistachios, pine nuts, pecans, or a combination. Top with grilled chicken for a complete meal.
© The Fountain Avenue Kitchen