Vibrant color, crisp texture, and an amazing ability to maintain freshness for an entire week make this recipe a year-round salad super hero.
Loaded with healthy superfoods, it's the combination of crunchy elements and a hint of chewy sweetness make this colorful salad truly satisfying. For a hearty, well-rounded meal, I typically serve it with a side of chicken, salmon, or steak. Cooked beans or seared tofu are great vegetarian options.
And you know those nights when nothing tastes as good and seems as easy as ordering pizza? I adore the way this salad pairs with a cheesy slice, and it can be thrown together before the pizza arrives at your front door.
While I most often make the recipe as written, you can absolutely customize it based on extra ingredients you have on hand. Diced bell pepper, crumbled feta or goat cheese, mandarin orange segments, and even chopped jicama are all welcome additions. A variety of nuts and seeds are fair game, too, and feel free to be heavy-handed with them.
Crunch Salad is versatile enough to be tossed with almost any dressing. One of my favorite pairings, however, is this recipe for Creamy Balsamic Vinaigrette. Other great options include:
Greeked-Out Gorgonzola
(a healthy blue cheese dressing)
Better-For-You Buttermilk Ranch
Favorite Balsamic Vinaigrette
Apple Cider Vinaigrette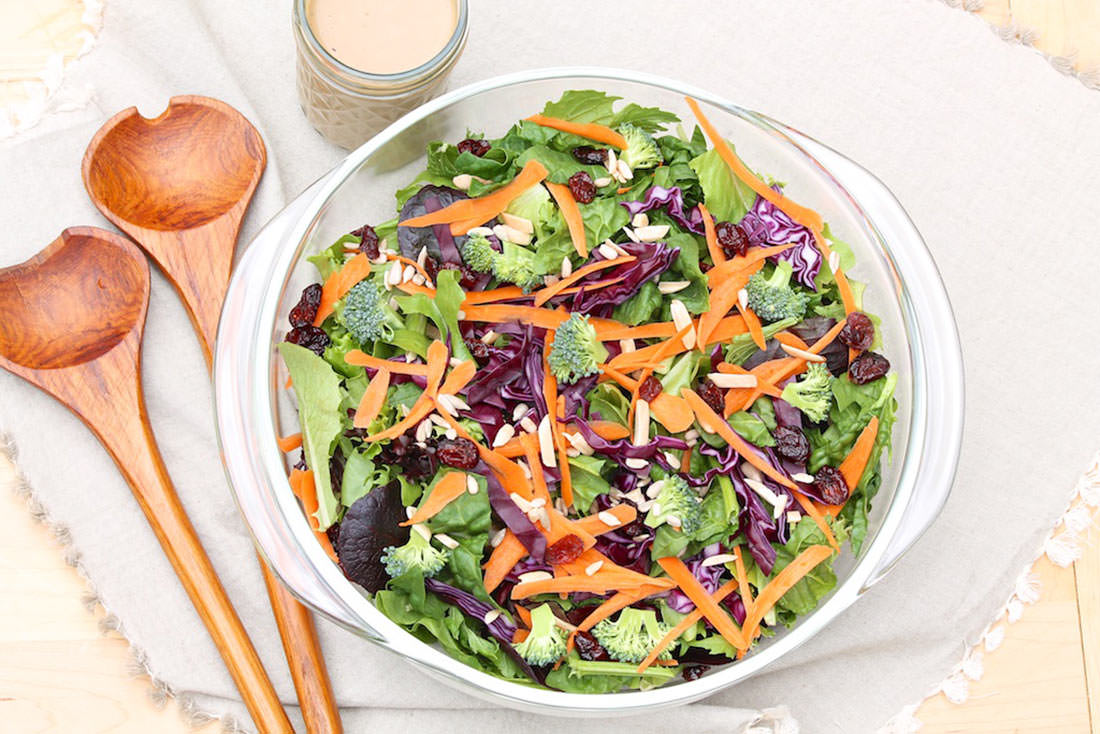 Crunch Salad
Tossed with your favorite dressing, this salad tastes so good that you'll forget it's so good for you. Add sliced chicken for a satisfying complete meal.

Yield: 4 main dish servings or 6-8 side dish servings
Ingredients
4 ounces (about 8 lightly packed cups) baby spinach or mixed greens
1 cup shredded cabbage (I like red for color; green is fine, too)
1 cup chopped broccoli, optional*
1 carrot, peeled and julienned or shaved into strips with a peeler
1/3 cup dried cranberries
1/4 cup EACH slivered, toasted almonds and salted sunflower seeds
Dressing of choice (creamy balsamic, ranch, blue cheese, apple cider vinaigrette are all great options — see links above)
Instructions
Add all ingredients to a large salad bowl. Drizzle with dressing of choice and toss well.
Notes
*If you prefer crisp-tender broccoli over raw, simply blanch the florets in a pot of boiling water for 1-1 1/2 minutes (or 30-60 seconds longer for more tender florets), and then drain and plunge immediately into a bowl of ice water. If desired, you may slice the stems and use them, too. This step may be done at the beginning of the week for convenient use over the next 5-7 days.
To completely prepare this salad in advance, add the desired amount of dressing to the bottom of a salad bowl. Top with the cabbage, carrots, and broccoli first, followed by the lettuce. Sprinkle with the cranberries, nuts and seeds. Cover and refrigerate until serving time and then toss as usual. If the salad will be in the refrigerator longer than a few hours, sprinkle the nuts and seeds on just prior to serving to maintain optimal crunch.
The Fountain Avenue Kitchen https://fountainavenuekitchen.com/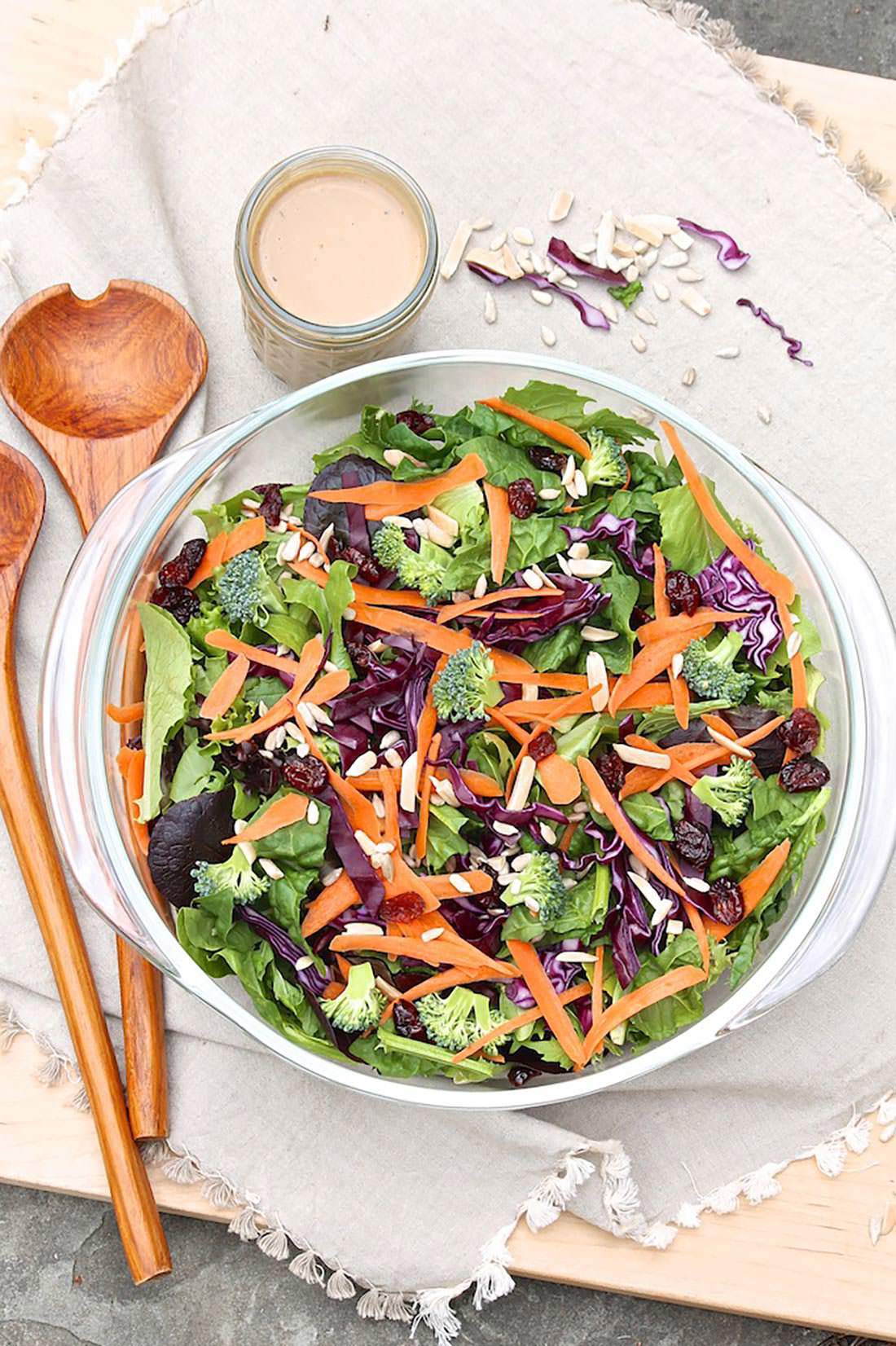 Make these ingredients refrigerator staples for convenient, healthy salads in minutes. Tossed with your favorite dressing, Crunch Salad tastes so good that you'll forget it's so good for you. Top with your favorite protein for a satisfying, complete meal.
Creamy Balsamic Vinaigrette is a personal favorite to use on Crunch Salad, but the following dressings are versatile fridge staples in our house, too:
Greeked-Out Gorgonzola (a healthy blue cheese dressing)
Better-for-You Buttermilk Ranch
Favorite Balsamic Vinaigrette
Apple Cider Vinaigrette