Delicious recipes that allow for seasonal adjustments rank high in my book.  Originally, I developed this baked quinoa dish because I wanted to use this healthy grain in a new way–and my 10-year-old isn't fond of the texture when presented as a salad or pilaf, let alone all by itself.
So, I incorporated eggs, cheese, veggies, and a few other odds and ends.  Guess what?  It was a hit!  I truly love this dish, too.  If I am lucky enough to have leftovers, this dish makes a perfect lunch or second dinner.  Occasionally, I top my piece with chopped avocado and tomatoes to make a delicious, satisfying meal.
As for  the seasonal component, broccoli, kale, and spinach are excellent options to the zucchini.  I haven't included sautéed mushrooms yet, but that–mixed with kale–is next on my list.  (If you try it first–maybe with some Asiago cheese–please provide feedback!)  Feel free to change up the herbs and cheese as well, and consider trying the rinse-and-sauté method of cooking the quinoa.  It adds to the nutty flavor and takes practically no extra time!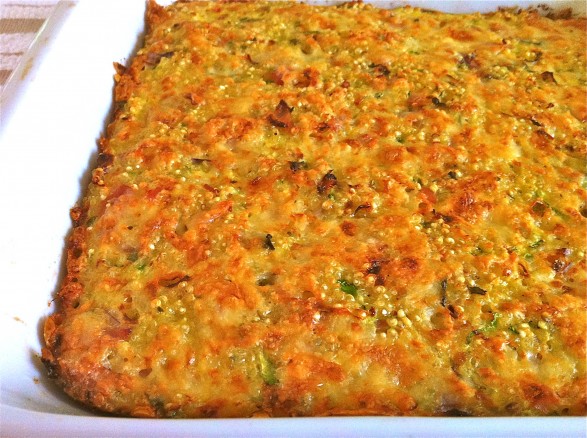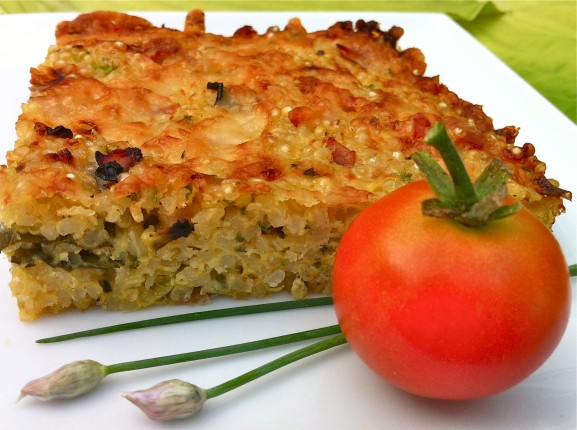 Quinoa, Cheddar and Zucchini Bake
For a great vegetarian meal, simply omit the ham.
Ingredients
2 cups cooked quinoa (about 3/4 cup uncooked, see note)
3 eggs
1/4 cup milk
1 cup shredded zucchini (see note)
1 cup shredded sharp cheddar
1/2 cup finely diced ham
1/3 cup chopped herbs (i.e., basil, thyme, chives, oregano, or a mix of several)
1/4 cup minced onion
1/2 teaspoon kosher salt
1/4 teaspoon freshly ground pepper
2-3 tablespoons grated Asiago or Parmesan cheese
Instructions
Preheat the oven to 375 degrees.

Lightly beat the eggs with the milk in a large bowl. Add all remaining ingredients except the Parmesan or Asiago and spread in a greased, 9×9 baking dish. Sprinkle the remaining cheese over the top.

Bake for 20 minutes or until just set and the top is slightly golden.
Notes
To achieve a slightly nutty flavor, I recommend rinsing the quinoa and then sautéing over medium-high heat in about a tablespoon of olive oil until dry and slightly toasted. Stir frequently so as not to burn as quinoa dries. Then, add the liquid and simmer, uncovered, over low until cooked through, about 12-15 minutes. To get the correct amount for this recipe, use 3/4 cup of quinoa and, after sautéing, add 1 cup plus 2 tablespoons water. You could also cook the quinoa in chicken or vegetable stock for added flavor.
I grate the zucchini on the coarse side of a box or hand grater then squeeze excess moisture out with a paper or hand towel.
The Fountain Avenue Kitchen https://fountainavenuekitchen.com/