As a kid at camp in Maine, I loved to sign up for the hiking trips. Typically, we hiked portions of the Appalachian Trial, usually carrying supplies in a frame pack on our back, camping out for a few nights at a time. We always brought "Gorp", an easy-to-pack, energy-filled trail mix which was adored by all. Camp gorp consisted of chunks of homemade granola, raisins, peanuts, and M&Ms. (Every once in a while, the M&Ms were replaced with carob chips which was not popular!) So tasty were the granola chunks and M&Ms, I saved them for last.
In the past, I have made many versions of Gorp. My chunky granola recipe was inspired by the memory of what I enjoyed eating at camp. The snack mix I make using that granola as a base is one of my all-time favorites. This "gorp" contains yummy chunks, too, this time using a mix of cereals held together with some white chocolate "glue". What could be better?
For a festive treat, use holiday-colored M&Ms. For a healthier version, substitute the M&Ms with dried cranberries. This recipe, which was adapted from a recipe originally given to me from allrecipes.com, makes a large quantity which will store well in an air-tight container.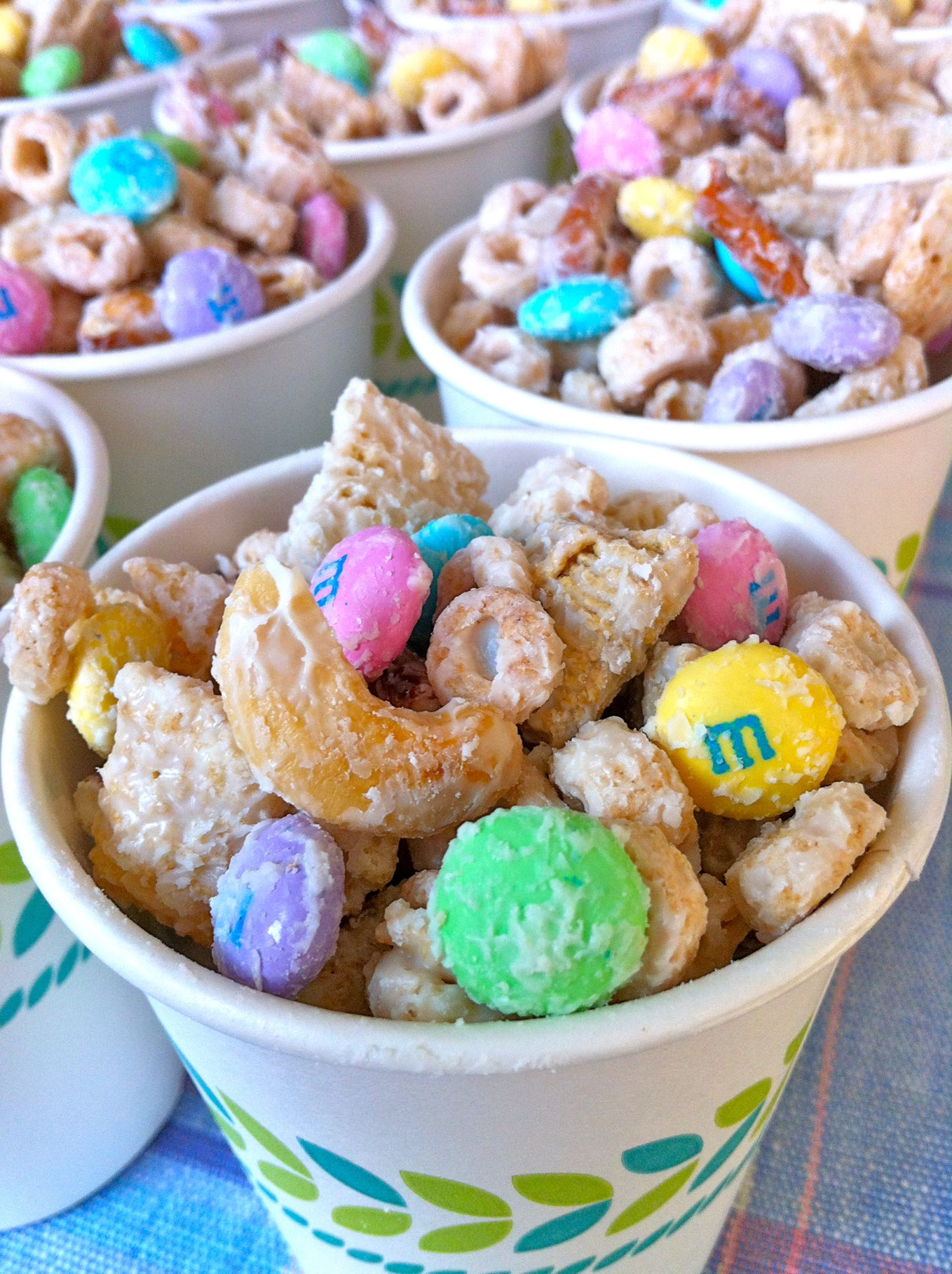 White Chocolate Gorp
Ingredients
1 pound white melting chocolate
5 cups Rice Chex
3 cups Quaker Oatmeal Squares
3 cups Cheerios
2 cups thin pretzel sticks (I break them in half)
2 cups cashews
1-2 cups plain M&Ms (or dried cranberries)
Instructions
In very large bowl or roasting pan, combine the cereals, pretzels, cashews, and M&Ms.

Melt the white chocolate in the microwave in thirty second increments, stirring as you go. (I use a quart-size Pyrex measuring cup for this.) Once it is completely smooth, pour over the cereal mixture. Gently toss until all of the cereal mixture is evenly coated. Carefully, turn mixture onto a large piece of parchment or wax paper to cool. Once cooled, store in an air-tight container.
The Fountain Avenue Kitchen https://fountainavenuekitchen.com/
This recipe was shared with Moonlight & Mason Jars.