This is a new version of one of my favorite breakfast dishes–baked oatmeal–and I am over-the-top in love with it! I could eat this for dessert, yet it is such a healthy breakfast. Day to day, I eat plain old stove top oatmeal, dressed up with seasonal fruits, lots of nuts, cinnamon, and whatever else suits my mood. I really love it. Yet baked oatmeal can be made ahead for a speedy breakfast and, while my kids don't care for regular oatmeal, they will gobble up baked oatmeal.
I have oodles of versions of baked oatmeal, many that I have yet to share. After all, I don't want to over-oatmeal my Fountain Avenue Kitchen friends! If you have questions concerning substitutions and modifications, however, I can probably answer them. I think I have baked these recipes in every possible pan (except a loaf pan….now I'll have to try that one!), with every possible combination of eggs, oats, oils, sweeteners, etc., to see how much is just enough–but not too much–of any one ingredient. Different amounts of sweetener and different textures may appeal to different people, but the recipes that I have published so far have been a hit with some of my toughest customers.
This version is bursting with antioxidant-rich blueberries and crunchy, protein-packed almonds and is further enhanced by the tropical flavor of coconut. It has a novel preparation, and it's quick and easy to boot. To me, this is like eating a healthy, delicious blueberry crisp for breakfast!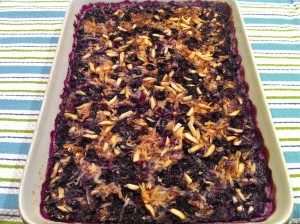 Blueberry Coconut Almond Baked Oatmeal
2015-11-19 09:27:02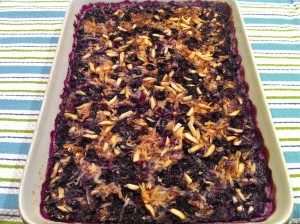 If you don't care for coconut, simply omit it from the recipe. As for the almonds, I prefer slivered to sliced because I think they offer more crunch. But really, either one will work well. Serve as is or with a dollop of Greek yogurt or a drizzle of warm milk.
Ingredients
2 cups old-fashioned oats
1/2 cup toasted, slivered almonds, divided
1/2 cup shredded coconut, divided (I used sweetened; could use unsweetened)
1 teaspoon baking powder
1 1/2 teaspoons ground cinnamon
1 teaspoon kosher or sea salt
1/3 cup maple syrup (could use honey)
2 cups milk
1 large egg
3 tablespoons melted coconut oil (could use melted butter)
1/2 tablespoon pure vanilla extract
2 1/2 cups blueberries (if frozen, do not thaw)
Instructions
Preheat oven to 375 degrees and butter the inside of a 9 x 13-inch baking dish.
In a large bowl, mix together the oats, 1/4 cup of the coconut, 1/4 cup of the almonds, baking powder, cinnamon, and salt.
In another bowl, whisk together the maple syrup, milk, egg, coconut oil or butter, and vanilla.
Sprinkle half of the berries over the bottom of the baking dish. Cover the fruit with the dry oat mixture. Slowly drizzle the milk mixture over the oats. Scatter the remaining blueberries, coconut, and almonds over the top.
Bake for 30 to 40 minutes or until the oat mixture has set. Remove from the oven and let cool for a few minutes.
This may be eaten immediately or made ahead and reheated. Store leftovers in the refrigerator.
Notes
When using melted coconut oil or butter, it is helpful if the cold ingredients have come to room temperature prior to mixing so that the oil or butter doesn't re-harden once stirred in. If this happens, you may slowly heat in the microwave until the liquid mixture is just warm enough to soften the butter or coconut oil.
The Fountain Avenue Kitchen https://fountainavenuekitchen.com/