Just before Thanksgiving, my older son endured the displeasure of jaw surgery. To eliminate additional procedures down the road, he had his wisdom teeth pulled, too. Lucky boy.
In the week or so that followed, pureed or very soft foods were all he could eat. Immediately after the surgery, his first request was "the biggest possible vanilla milkshake." Of course, the perk of endless ice cream, pudding, and Jell-O is often mentioned when someone is recovering from oral surgery, and he did "enjoy" his fair share of sweet treats, including that vanilla shake. But, in reality, my 16-year-old son was hungry for more.
For some reason, I didn't anticipate him wanting anything more than a big bowl of ice cream on the evening of the surgery, so I had to think fast. His mouth hurt—a lot—but his stomach was just fine. Soups are an easy way to incorporate satiating protein in a warm, savory meal, and after the day he'd been through, I wanted to do more than simply open a can from the cupboard.
Thinking of a trick I use in a favorite tomato soup and working with ingredients that I had on hand, I quickly retooled an old broccoli-potato soup recipe to include beans in place of the potatoes. In the tomato soup recipe, I blend in cannellini beans to provide creaminess and thickness in a healthy way. Previously, I had incorporated potatoes to the same end in my broccoli soup.
As with potatoes, the flavor of cannellini beans is so mild that their addition does little to change the soup's flavor. But beans pack a protein punch along with a healthy dose of fiber and minerals, all in an economical can. What's more, this swap means no potatoes to peel and a shorter cook time. Frozen broccoli works beautifully, making this soup a breeze on a busy weeknight.
Truth be told, I didn't much like the look of green soup when I was little, and the first President Bush is famously known to despise broccoli. Cheddar cheese, however, offers a familiar flavor in this soup, and my kids really enjoy it. If you are inclined to try this easy meal but think your crowd may offer resistance, a sprinkle of crisp bacon over the top may just win them over.
While my son was recovering, I discovered that a little mashed avocado is a pleasant addition to this soup. In this case, I added a spoonful or two to the individual bowls along with some extra cheddar cheese. For avocado fans, this fruit's healthy fats and velvety texture will lend an extra level of creaminess and staying power to this speedy, one-bowl meal.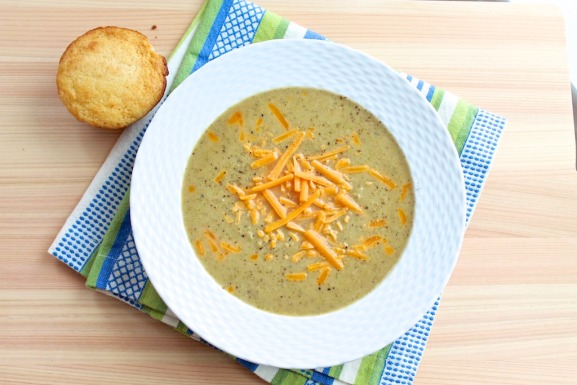 Broccoli Cheddar Soup
As an option, start by sautéing 2 or 3 slices of bacon in the pot until crisp, and then remove to a plate. Crumble and reserve for a soup topping. If desired, when using bacon, you may cook the onion in the residual bacon grease instead of the olive oil for a smoky, bacon-y flavor. This soup may be prepared ahead of time and reheated and is delicious served with crusty rolls or cornbread.

Yields 4 generous or 6 regular servings — approximately 7 cups total.
Ingredients
1 tablespoon olive oil
1 medium yellow onion, chopped (1 1/2 to 2 cups)
3 cloves garlic, peeled and minced
2 (10-ounce) packages chopped frozen broccoli, (may use the equivalent amount of fresh broccoli; see notes*)
1 (15-ounce) can cannellini beans, rinsed and drained**
1/2 teaspoon dried thyme leaves
4 cups low-sodium chicken broth
1 cup shredded extra sharp cheddar cheese
Kosher salt and freshly ground pepper, to taste (I use about 3/4 and 1/2 teaspoon, respectively***)
Optional toppings: additional cheddar cheese, crumbled bacon or chopped ham, sliced scallions
Instructions
Heat the olive oil in a large, heavy-bottomed soup pot over medium heat. Sauté the onion until tender and beginning to turn golden, stirring occasionally, about 5 minutes. Add the garlic, and sauté 30-60 seconds more or until fragrant. Add the broccoli, beans, thyme, and chicken broth. Bring to a boil, reduce the heat, and simmer, covered, for 10 minutes or until the broccoli is tender.

With either a regular blender or immersion blender, puree the mixture until smooth. (If I have time, I allow the soup to sit for 10-15 minutes so it isn't piping hot for this step, reheating as needed.) After blending, add the cheddar cheese, salt and pepper, and stir until the cheese is melted. Ladle into bowls, and sprinkle with any of the optional toppings.
Notes
*If using fresh broccoli, I recommend adding the chopped stem pieces with the onions, as they will take longer to soften than frozen stem pieces. When using frozen broccoli, there is no need to thaw and drain first.
**In my original broccoli potato soup recipe, I used 2 medium potatoes, peeled and diced (approximately 12 ounces or 2 cups) in place of the cannellini beans. I simmered the potatoes in the broth for 15 minutes before adding the broccoli, and then added the broccoli and cooked 10-12 minutes more, until tender, before pureeing and stirring in the cheese. I also added 1/4 teaspoon of cayenne pepper for mild heat. If desired you may add, to taste, along with the thyme. In this case, if using fresh broccoli, add the stem pieces along with the potatoes.
***This is a recipe where the right amount of seasoning really makes a difference. If the flavor doesn't seem pronounced enough, try adding a little extra salt or another sprinkle of cheese. The perfect amount will depend on the type of broth used and personal preference.
The Fountain Avenue Kitchen https://fountainavenuekitchen.com/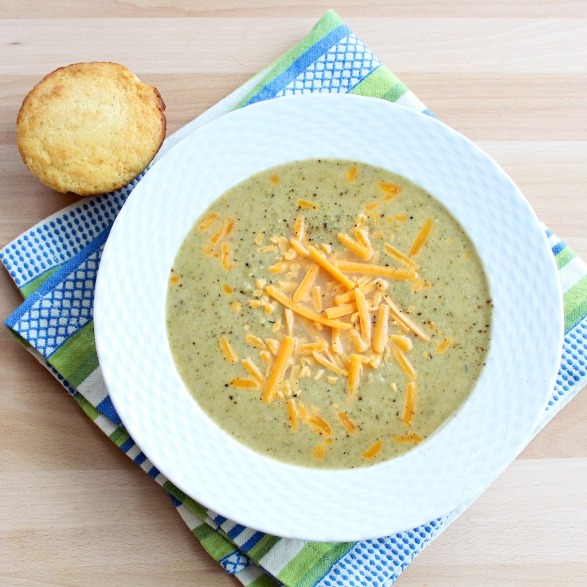 Click here to see the recipe for Honey Sweetened Corn Muffins. They are a reader favorite and a delightful accompaniment to this soup!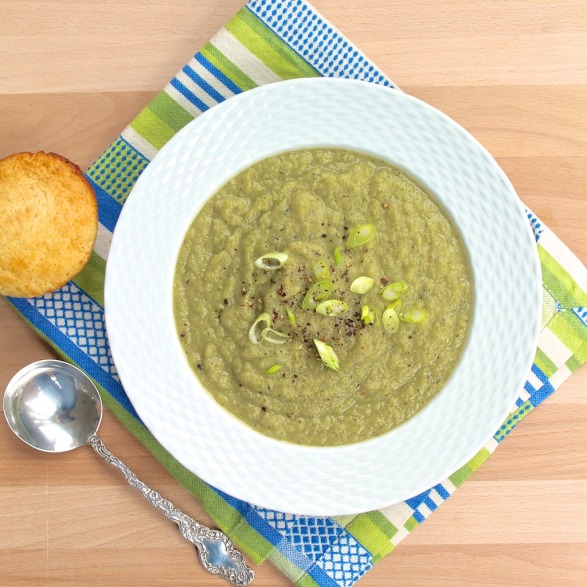 This is an old photo of the broccoli-potato version (described above) that I never posted.  I served it with the same muffins this time around…and used the same napkin!