Even as an adult, I anticipate my Christmas stocking every year.  My husband always succeeds in finding a handful of gifts that are the perfect balance between practical and perplexing.
Early in our marriage, the gifts were mostly useful toiletries: a 500-count box of Q-tips, shampoo, and toothpaste.  Over the years, however, he has left the bathroom in favor of the kitchen, with most welcome results.
A few of the gifts never change.  I bank on English breakfast tea in bulk, a bottle of olive oil, two bags of dark chocolate peanut M&Ms (I've mentioned my sweet tooth in the past!), and peppercorns for our pepper mill.
Over the years, I have also received jumbo jars of pepperoncini (his favorite) and food items ranging from bags of fried fava beans and yellow lentils to a tin of Virginia peanuts and a box of ice cream cones (yes…that sweet tooth again).
There is no need for these gifts to actually fit in the stocking, by the way.  They are typically stacked in a neat pile on the floor below.
So why am I writing about Christmas stockings when we will soon be thinking about Easter baskets?  Along with the variety of edibles, there are usually a couple of magazines.  I rarely buy magazines for myself, so this is always a treat.  This year, a recipe from British chef Jamie Oliver popped out from one of the pages.
"Chicken in Milk" was odd yet intriguing, and I cooked it right away.  The aroma was amazing, and the chicken ranked with the most tender I've ever consumed.  I made the recipe several more times, dialing back the tanginess of the sauce and simplifying the preparation.  Though my family loved this tender chicken the first time, with each revision they adored it a little more.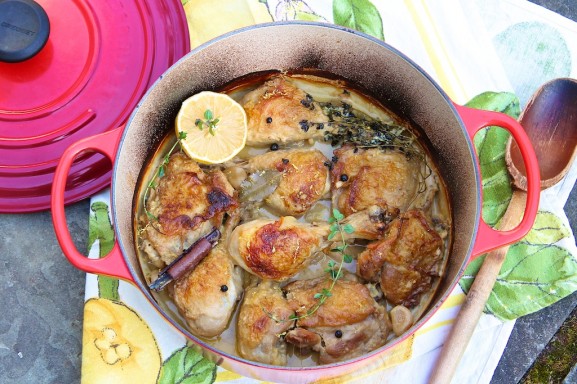 Chicken in Milk
Each time I prepare this recipe, I increase the amount of garlic over the original amount, listed below. The whole cloves soften and mellow as they cook, and everyone requests more of these creamy nuggets.
Ingredients
3 pounds bone-in, skin-on chicken thighs and/or legs (I use 1½ pounds of each)
½ teaspoon each kosher salt and freshly ground black pepper
2 tablespoons olive oil (enough to lightly coat the pan)
½ cinnamon stick or ¼ teaspoon ground cinnamon
A few fresh thyme sprigs (may substitute sage)
¼ cup lemon juice and the zest of one lemon
10 garlic cloves, skin removed but left whole (may use more if you are a garlic fan)
2 cups 2% milk
Instructions
Preheat the oven to 375℉. Heat the olive oil over medium heat in a Dutch oven or another heavy pot or casserole with a tight-fitting lid. Place the chicken, skin-side down, in the pot and allow it to cook without moving until the skin is nicely browned, about 10 minutes. (This step will render much of the fat, brown the skin, and is best done in two batches so as not to crowd the pan. I don't bother to brown the side with little to no skin. See notes for a timesaving option.) Remove the browned chicken to a plate. Discard the excess oil, leaving the crusty bits on the bottom. This will add good flavor later.

Put the chicken back in the pot with the rest of the ingredients, and cook, covered, in the preheated oven for 1 hour and 30 minutes. (I don't baste or even peek, although I have taken the chicken out after 1 hour and 20 minutes and it was fine. I have also cooked early and reheated.) The lemon juice will sort of curdle the milk, making a thick sauce, which is creamy and absolutely delicious.

Serve with crusty bread or over rice, noodles, or potatoes, as desired, to soak up the delicious sauce. A side of peas or green vegetable of choice completes the meal.
Notes
To see what would happen if I omitted the browning step–which tends to splatter and be a bit messy–I skipped it recently and was pleasantly surprised. While the color of the skin is not golden brown and beautiful, the resulting chicken is every bit as delicious as it is when browned first. This meal is so incredibly easy when the browning stage is skipped…I wouldn't hesitate to try it this way and compare for yourself.
If you don't typically use 2% milk, which I recommend over non-fat milk in this recipe, look for the 16-ounce bottles to eliminate waste. If your grocery store doesn't carry this size, many convenience stores do.
The Fountain Avenue Kitchen https://fountainavenuekitchen.com/