Jump to Recipe
Homemade chocolate letters add a special touch to birthday cakes and any celebratory dessert–and they're easy to make!
My dear friend and incredible baker, Lisa, gave me this idea recently and I thought it was so very clever!
When I served this cake, smiles were on every face and all the kids proclaimed that they wanted their name in chocolate on their next birthday cake.
Chocolate numbers would be fun as well. Additionally, white Chocolate would be pretty on many cakes and could be colored with food dye to coordinate with any color scheme.
You could also add colored sprinkles. Just make sure to sprinkle on the letters before the chocolate sets.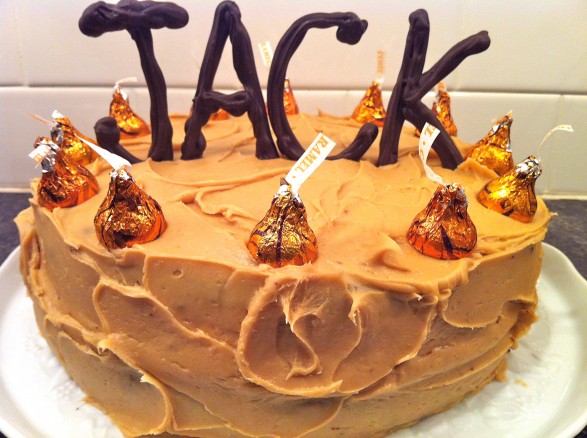 We think this is the perfect chocolate cake and the letters looks great on top. The recipe for Hershey's Cocoa Cake with Homemade Caramel Frosting has been a longtime family favorite.
And to all the peanut butter fans, I highly recommend pairing the chocolate cake with Foolproof Peanut Butter Frosting. It's an easy crowdpleaser–especially when topped with chocolate letters!
Chocolate Letters
Ingredients
good melting chocolate (dark, milk, or white), about 1/4 pound–more or less depending on how many letters you want to make
Instructions
Lay a piece of wax or parchment paper on a large cutting board or counter. Heat chocolate in the microwave in 30-second increments until completely melted. Pour into a zip-top bag. Let the chocolate sit for a few minutes to thicken or place in the refrigerator for a minute. You don't want it to be too runny.

Snip a small piece off one of the bag's bottom corners. You can always cut the hole bigger, so start small. Pipe chocolate in the shape of any letters or numbers you desire. I re-piped over the letters a couple of times to make them thick enough that they wouldn't break too easily. Let harden on the counter or in the refrigerator.
Notes
I put mine in the fridge for a few minutes before placing on the cake so the chocolate was not at all soft. They were easier to stick in the cake this way. Keep in mind, candles burning too near the letters will cause them to melt. Just keep a little distance and you should be fine!
More On YouTube
More on Instagram
The Fountain Avenue Kitchen https://fountainavenuekitchen.com/