Jump to Recipe
I adore pancakes, but eating a stack of them dripping with syrup always gives me a headache. Does that sound weird? A while back, I began to think it might be all the refined flour and sugar. So, I started experimenting with whole grain options. As it is, I do prefer a hearty, nutty flapjack. Somehow, it fills me up without sitting like a rock in the bottom of my stomach. My kids really like this version and aren't even aware I "healthified" their pancakes. If you prefer a traditional, thin pancake made with all-purpose flour, this recipe might not be for you. If you like a heartier variety, give this a try…for breakfast or dinner!
Note: The one banana is this recipe does not create a strong banana flavor but does provide good moisture and sweetness. Add the optional chopped banana for a more pronounced flavor. The pecan meal, which lends a subtle nuttiness could be subbed out for flax meal, oat bran, wheat germ, or almost any grain of your choice. Other tips follow recipe.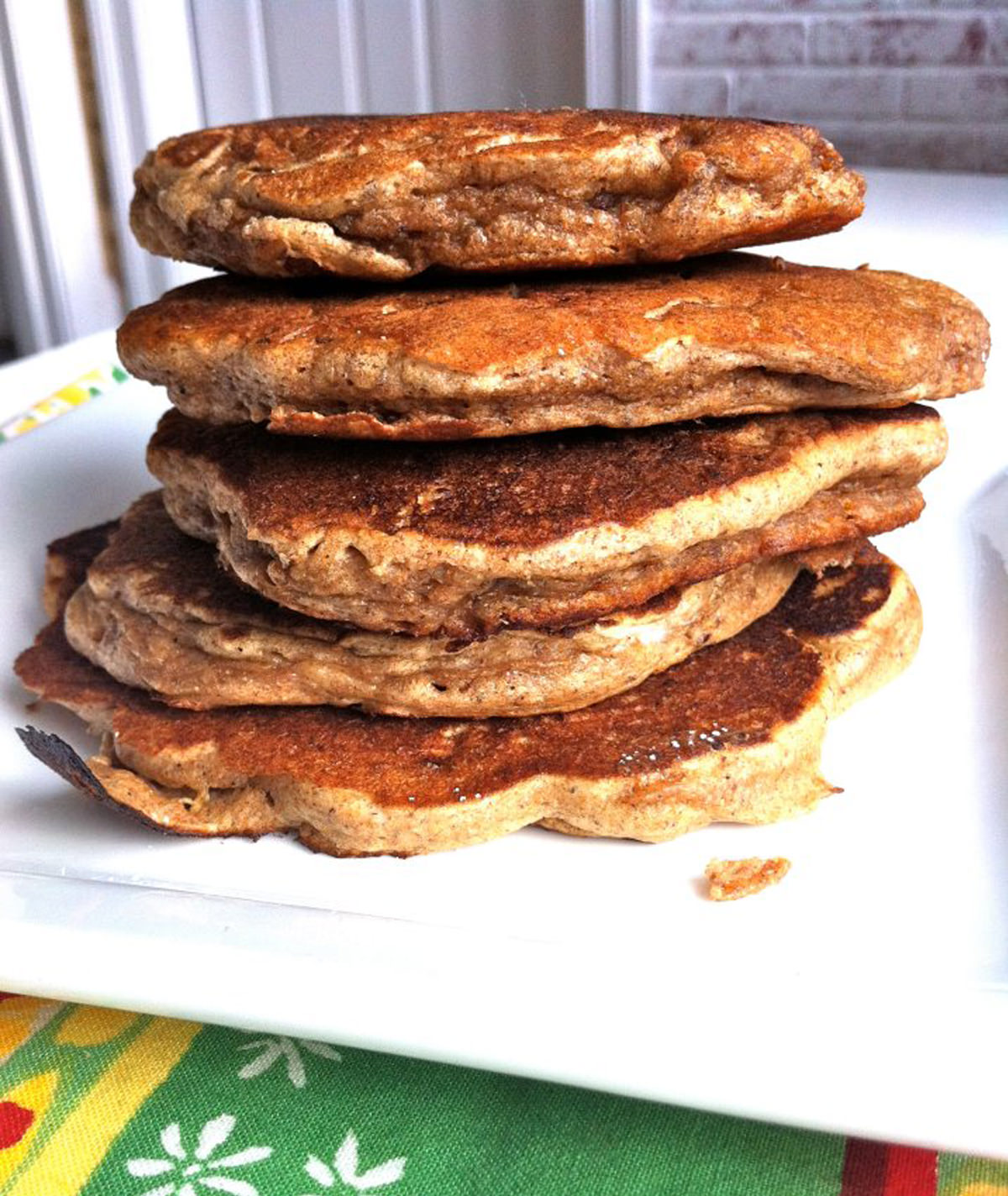 Healthy Banana Pecan Pancakes
Ingredients
2 cups whole wheat flour
1/4 cup pecan meal (could substitute flax meal)
1 tablespoon baking powder
1 teaspoon cinnamon
1 ripe banana, mashed
1 6-ounce cup plain Greek yogurt (I use Chobani 2%)
1 1/4 cup milk
2 tablespoons agave syrup (or honey or maple syrup)
2 tablespoons melted coconut oil (or canola oil or melted butter)
2 eggs, lightly beaten
1 teaspoon vanilla
1 chopped banana, optional
Instructions
Mix wet ingredients and dry ingredients separately. Add wet to dry and stir until just combined, folding in chopped banana, if desired.

Heat a cast iron skillet or frying pan over medium heat. I greased the pan with coconut oil to add to the nutty flavor. This type of oil has a high smoke point, so is great for stove-top use.

Drop batter by 1/4 cupfuls, spreading with the back of a spoon as necessary. The batter will be relatively thick. You could thin with more milk, but I enjoy the thicker pancake a thicker batter creates. Cook until golden brown on bottom, then flip and cook on the other side until golden and cooked through the center. Since the pancakes are thick, you may need to turn your heat down to low so that the insides cook before the outsides become too brown. Try not to press down with spatula to keep pancakes' lightness.

Yields approximately 15 large pancakes. Serve with maple syrup, fruit, or topping of your choice.
Notes
Could substitute vanilla, honey, or other flavored yogurt of your choice.
I often make the pancakes the evening before and pop in the toaster oven for a quick breakfast. They freeze well, too.
Keep warm in a 200 degree oven if making for a crowd.
More On YouTube
More on Instagram
The Fountain Avenue Kitchen https://fountainavenuekitchen.com/