I love oatmeal. I eat it almost every morning. Old-fashioned or steel cut oats, baked oatmeal or boiled, it's all good. I have experimented with countless baked oatmeal recipes and this is a hands-down winner with everyone in my family.
When Smart Balance–a company that makes butters, oils, peanut butter, and other products aimed at avoiding trans fats naturally and reducing saturated fats, total fat and cholesterol–asked me to participate in a national recipe contest, I thought, "NO WAY!"  Heck, I was only playing around with a business Facebook page when I started The Fountain Avenue Kitchen.  I thought I checked all the boxes to keep the page private.  I mean, people didn't really care what I was cooking, right?  Well, as you have figured out, I am not very tech-savvy and I accidentally made that page public.  (My husband informed me when he noticed I had two "likes!")  So, I decided I would go with it and see what happened.
The thought of a national contest where people voted for me seemed crazy.  I mean, how would I ever get votes when I hate to ask anyone for anything??  When I learned that the winner would receive TWO trips for two to Canyon Ranch Hotel & Resort  in Miami Beach, Florida–one to keep and one to give away–I reconsidered.  I mean, the chances of winning are slim, but if I do, I get to give away a trip!  How fun would that be?  (Not to worry, you wouldn't have to go with me!)
Then I thought about my recipes.  My baked oatmeals have been well received and they are healthy and delicious.  Though I have made my baked oatmeals with everything from butter to coconut oil, canola and grape seed oil, my original recipe calls for butter.  So, incorporating Smart Balance's butter was a natural fit.  It felt authentic.  When I first cooked with this product, no one could tell a difference.  Now, I felt as though I could participate in the contest and, win or lose, feel good about it.  After all, if I convert a few people into baked-oatmeal eaters in the process, I will be happy.  That would be like winning!
My favorite part of this recipe is the little bit of sweet crunch on top.  Through much experimentation, I have created an oatmeal that is not mushy like stovetop oatmeal but can be cut and is the slightest bit cake-like.  I wanted an oatmeal that was healthy, whole grain, wheat-free, slightly sweet, and could be eaten like a muffin or topped with milk and any desired toppings.  I hope you approve!  Oh, and I would be thrilled if you voted for  my recipe!
UPDATE:  WE WON!!!!!  Click HERE to see the prize giveaway and thank you to all who voted.  Maybe we can do this again sometime!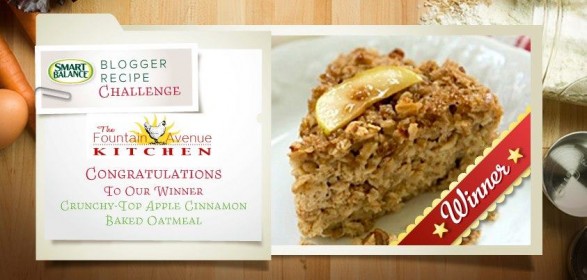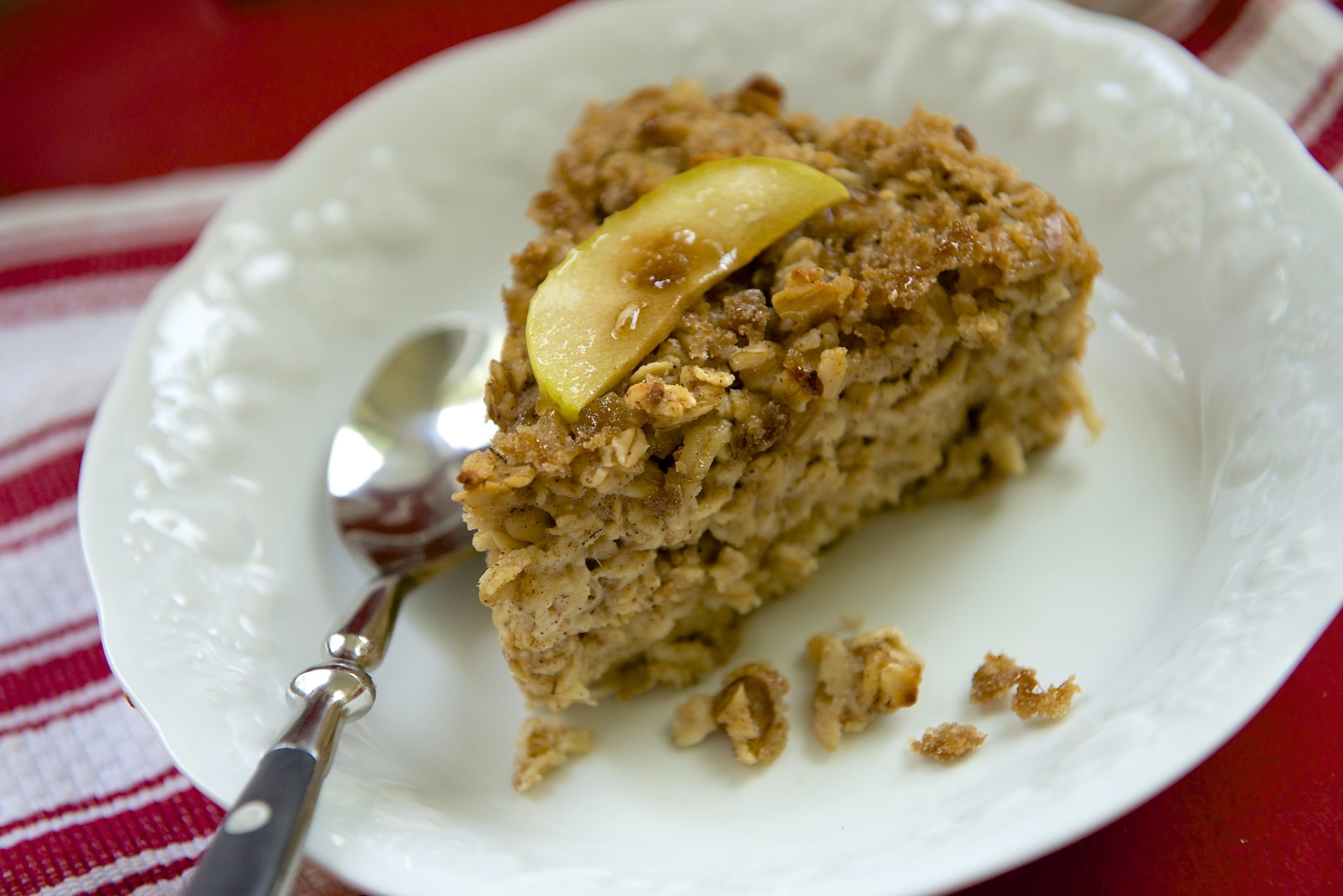 Overnight Crunchy Top Apple Cinnamon Baked Oatmeal
I am always experimenting with and tweaking my recipes and baked oatmeal is no exception! Recently, I began adding two tablespoons of steel cut oats to the batter. The recipe is delicious without, but if you have these oats on hand and like a bit more "texture" to your food, you could give it a try!

Yields 6-8 servings.
Ingredients
2 eggs, lightly beaten
1/4 cup pure maple syrup or honey
1 teaspoon cinnamon
1 teaspoon vanilla
1 teaspoon baking powder
1/4 cup melted Smart Balance Original Buttery Spread (butter or coconut oil may be substituted)
1/2 cup unsweetened applesauce (keep a pack of the individual serving cups on hand–they are the perfect size)
1 small apple, grated (fine to leave skin on)
1 1/4 cups milk (I use non-fat, any kind would work)
3 cups old-fashioned oats (use certified gluten-free oats if necessary)
1/3 cup brown sugar
Instructions
Combine all ingredients except the oats and brown sugar in a large bowl. Add oats and mix well.

Transfer mixture to a buttered baking dish. (You may use a 9-inch pie plate or an 9-inch square pan–or really any 2-quart baking dish–depending on how thick you would like your oatmeal. A 10-inch cast iron skillet works well, too.) Cover and refrigerate overnight or for at least 4 hours.

When ready to bake, let the baking dish sit on the counter while the oven pre-heats to 375 degrees. Uncover the oatmeal and bake for 27-30 minutes or until just firm in the center. Remove oatmeal from oven, set oven to broil, and sprinkle brown sugar over top of oatmeal. Broil for a minute, watching very closely, or until the topping is melted and lightly browned.

May serve with warmed milk, slivered almonds, chopped walnuts or pecans, and sliced bananas, if desired. My kids eat it plain, like a muffin; I load it up. Cover and store leftovers in the refrigerator. May reheat gently in the microwave.
Notes
You may also make the baked oatmeal as muffins. When doing this, I refrigerate the uncooked oatmeal in the mixing bowl then transfer to the muffin tin once the liquid has been absorbed by the oats. I get 8 regular muffins or 6 jumbo and bake for approximately 20 minutes. (Because of the wider proportions of my jumbo tin, those muffins bake in the same amount of time as the muffins baked in my regular tin. Just peek a little early until you know the exact time for your oven.)
If you use melted butter or coconut oil in this recipe, it is helpful to have the ingredients come to room temperature before mixing, That way, the butter or oil will not re-harden when it comes into contact with the cold ingredients.
The Fountain Avenue Kitchen https://fountainavenuekitchen.com/