As we were picking pumpkins last weekend, my older son commented that this may be his last year carving pumpkins. I firmly believe that one is never too old to carve pumpkins, but next year he will likely be in college during our annual family ritual. (Boo hoo!)
I'm pretty sure there will be a care package sent to wherever he ends up (he's just starting to work on the applications) that includes a batch of roasted seeds. The classic salted version has been a favorite fall snack at our house for years. More recently, we've also enjoyed a lightly sweet alternative.
For several years, I used my Spiced Pecan recipe as the starting point, thinking that a simple swap of nuts for seeds would be a sure thing. After a little tweaking, I ended up with a snack that we enjoyed, but it wasn't quite worthy of sharing. And then I had an idea…
Cinnamon Toast Crunch was my brother's favorite childhood cereal–the box he chose when we were occasionally allowed to buy something sugary. Then main appeal of the little squares was their cinnamon-sugar coating. It was dry and granular, suggesting the cereal was tossed in the mixture after cooking, as any sugar added before baking–as I had done until now with the pumpkin seeds–would melt in the heat of the oven.
Besides working really well with the pumpkin seeds, the toss-after-baking technique made for easier cooking–melted sugar is naturally sticky and messy. I was also able to use far less sugar to achieve the same level of sweetness. Win-win!
*************
Did you know? Pumpkin seeds are rich in essential minerals like zinc and magnesium, which help build muscle and fend off disease. Sometimes referred to as pepitas, pumpkin seeds contain mono-unsaturated fatty acids that help lower bad LDL cholesterol and increase good HDL cholesterol. They're also an excellent source of Vitamin E and B-complex vitamins.
Cinnamon Toast Pumpkin Seeds
Yield: 1 1/2 cups
Ingredients
2 tablespoons butter, melted
3/4 teaspoon ground cinnamon
1/8 teaspoon kosher salt
1 1/2 cups pumpkin seeds, dried out (see notes)
2 tablespoons granulated sugar
Instructions
Preheat the oven to 300 degrees F, and line a rimmed baking sheet with parchment paper.

In a small bowl, mix the melted butter, cinnamon, and salt. (Note: the sugar isn't added until after baking.) Place the pumpkin seeds in a large bowl, and pour the butter mixture over the seeds. Toss to evenly coat, and then spread the seeds in a single layer on the prepared baking sheet. (While the seeds are baking, wash and dry the large bowl for later use.)

Bake, stirring every 10-15 minutes, until seeds are toasted and lightly browned. This may take anywhere between 30 minutes to an hour, depending on how long you've allowed the seeds to dry.

Once toasted, remove the seeds from the oven and immediately pour them into the large bowl. Sprinkle the sugar over the seeds, and stir until evenly coated. Transfer the seeds back to a dry piece of parchment paper or baking sheet and allow to cool. Once thoroughly cool, store the seeds in an airtight container at room temperature.
Notes
Allowing the pumpkin seeds to dry out, at least partially, before baking will allow them to crisp faster and more evenly. It will also allow the butter mixture to better adhere to the seeds. To do this, spread the seeds out on a baking sheet and allow them to dry for several hours, stirring occasionally and spreading into an even layer again. You may also let them sit overnight, spread out on a baking sheet, uncovered, in the refrigerator.
You can remove the slimy orange goop from the seeds before roasting, but it's not necessary.  It actually adds extra flavor to the seeds.  (In our house, the seeds that have some of the crisped goop attached are the first to go!)
The Fountain Avenue Kitchen https://fountainavenuekitchen.com/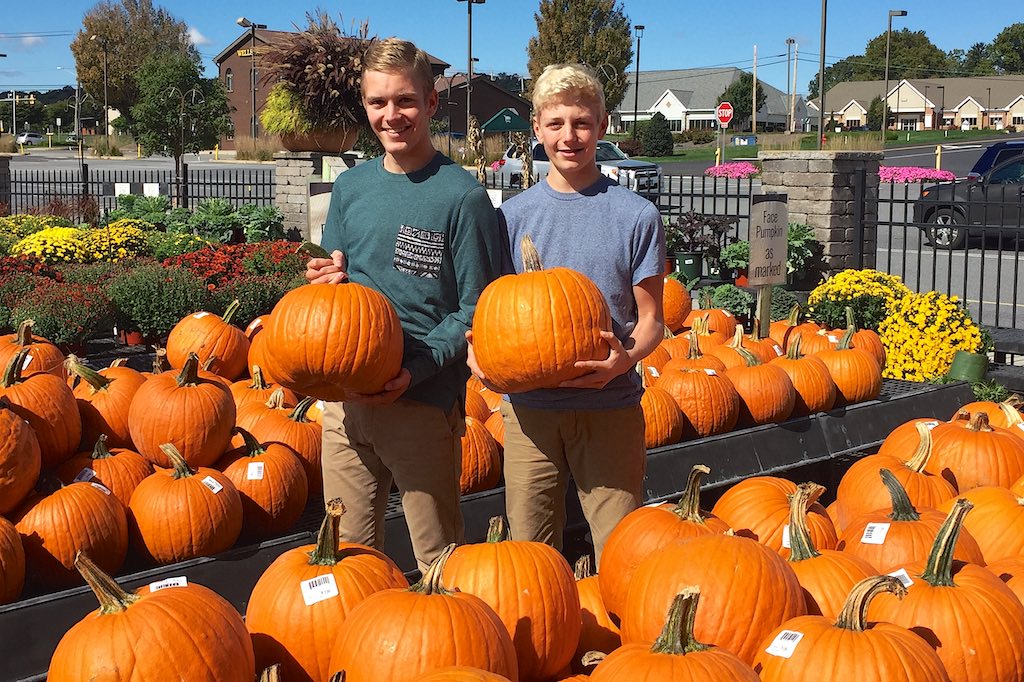 Never to old to carve pumpkins!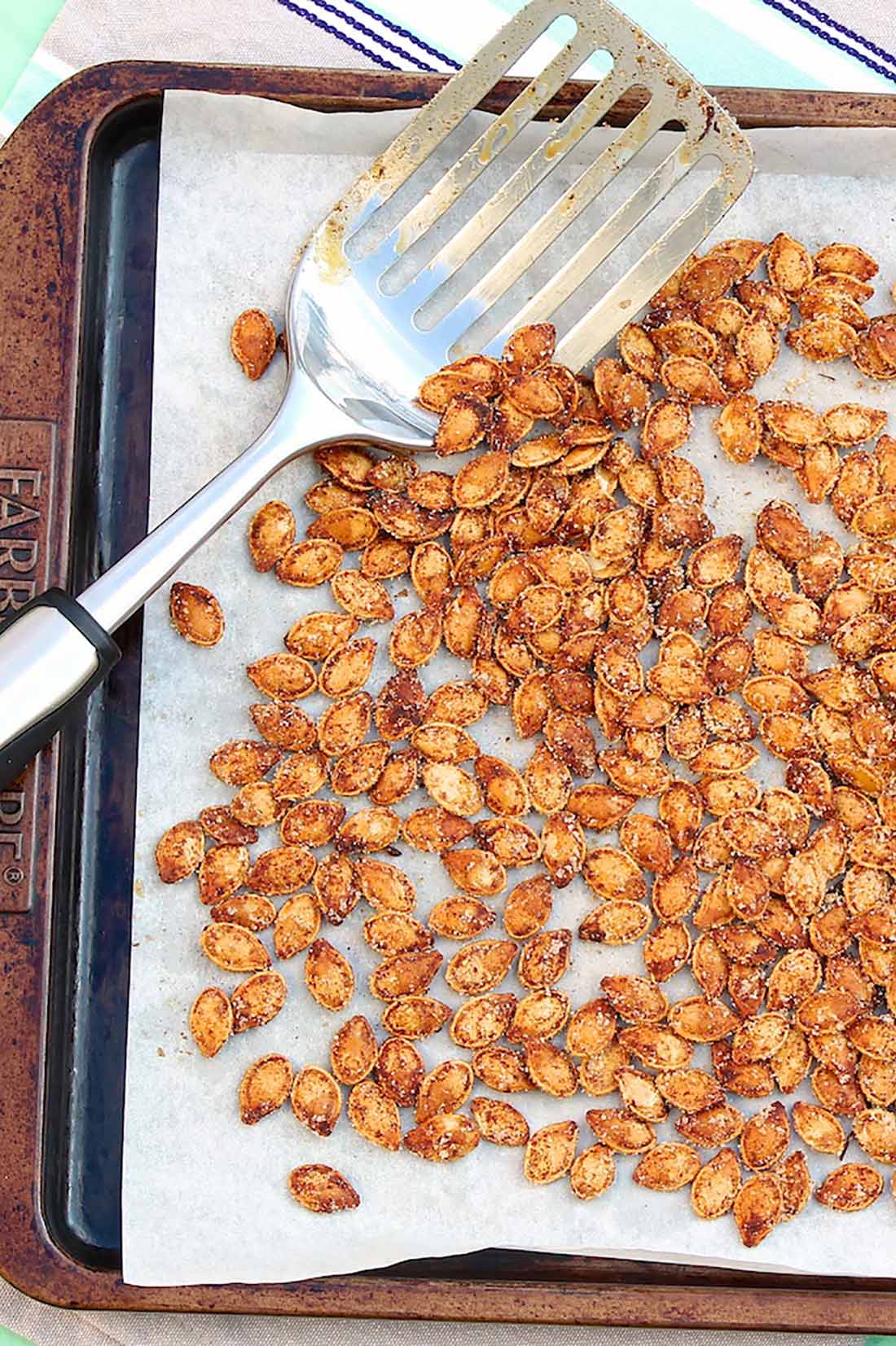 Earthy pumpkin seeds are lightly dusted with cinnamon sugar to create a seasonal treat that's lightly sweet but mostly healthy.